Dr.Ozone@ Model D200S industrial ozone machine includes three parts: 1. Ozone generator (only includes board and launch chamber), 2. One oil-free air compressor, 3. One Oxygen enrichment system includes freeze-drying, air filtration, water separation.
Dr-Ozone D200S ozone generator is often used in the process of treating wastewater, domestic water, bottled water, aquaculture water, swimming pools water or treating exhaust gas at large scales.
Dr.Ozone D200S industrial ozone generator product features:
The air separation process is an important stage that determines the purity of ozone, ensuring no contain nitrogen impurities. For the high capacity Dr.Ozone ozone generators over 150g, all come with high-efficiency oil-free air compressor pumps, air treatment systems by method of the frozen dryer, adsorption dryer, oil separator, air filter & air tank.
Ensure the required gas flow has a dew point lower than -40°C, temperature not higher than 25°C, the system can filter out particles' size less than 1 μm, create a flow with a pressure of about 0, 1MPa or more to ensure the stable operation of the ozone generator.
The heat generated by the ozone machine needs to be released as quickly as possible. Therefore, the D200S ozone generator uses an innovative water-cooling system that ensures a stable ozone chamber temperature, which will be unaffected by changes in room temperature, seasonal variation to ensure ozone generation efficiency at the stable level. The water-cooled source ensures water pressure of 0.2Mpa, the temperature of <25 °C, pH 6.5-8.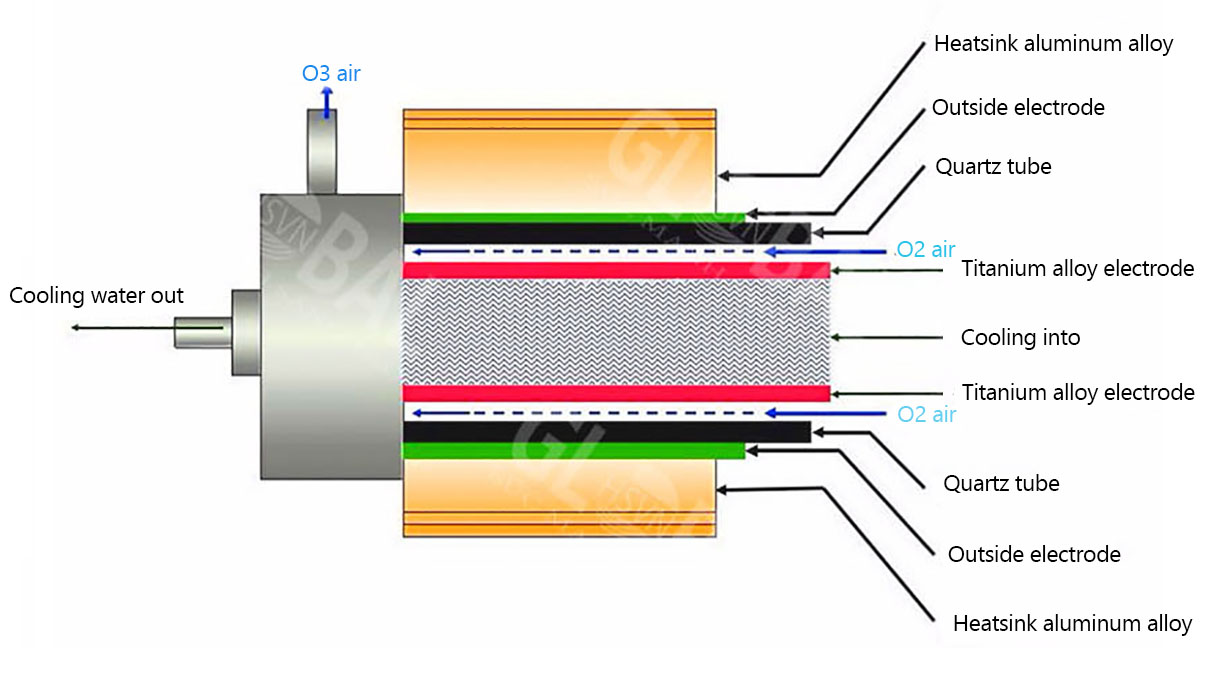 Integrate the Dr.Ozone D200S industrial ozone machine into the water treatment system
Dr.Ozone D200S machine is often used in water treatment purposes include industrial wastewater, domestic water, disinfection of RAS systems for aquaculture, disinfecting commercial swimming pools and in some gas treatment applications to treat industrial exhaust gas require large concentrations of ozone.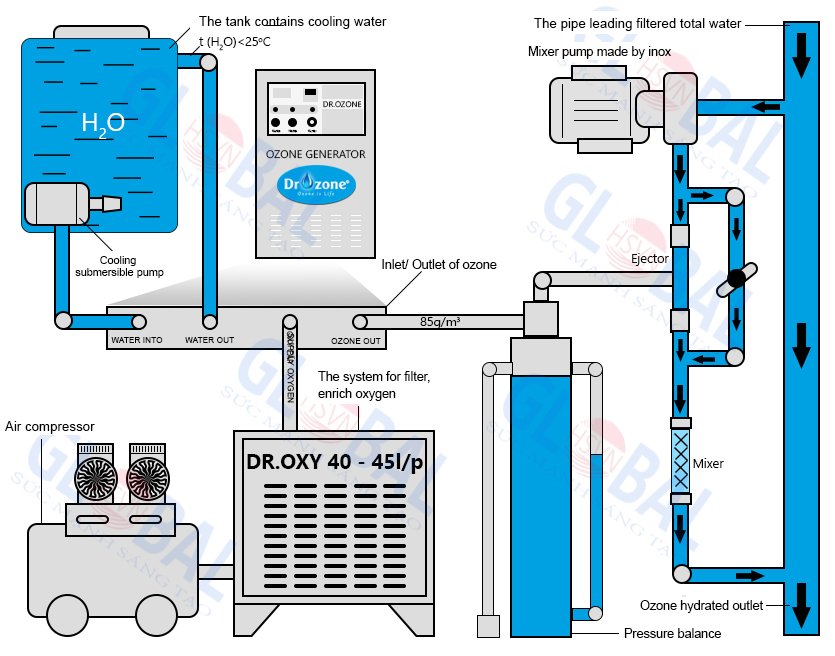 Dr.ozone D-200S machine includes the following accessories:
Oil-free compressor pump.
Dr.Oxy oxygen concentrator system with Oxygen concentration up to 92%, flow 40 – 50 liters/min.
The circulating cooling water tank.
The circulating submersible pump provides cooling water to the Ozone launch chamber (Ozone Chamber).
A pressure-balanced safety valve system acts as a water trap, ensuring that water is not returned to the Ozone chamber that causes electric shock or system failure.
The ejector has the effect of sucking ozone and mixing ozone into the mixing pipe branch with the mixing ratio increasing by 40%.
The static mixer has the effect of tearing the line, increasing the solubility of ozone (hydrated ozone) to 60%.
The mixing pump made of stainless steel (usually using Ebara pump imported from Italy, this is the type of mixing pump commonly used for Vingroup project), has the effect of extracting water flow from the total pipeline, putting it into the available ozone mixing system.
Ozone application in industrial wastewater treatment
In addition to removing the color of wastewater, ozone can also remove surfactants and oxidize partially COD (chemical oxygen demand) to improve bioavailability. Removing color at the simple level requires only a small amount of ozone and is very low cost. However, if the COD content of the colored wastewater is high, the ozone consumption has to be high.

For example, the COD value of printing and dyeing wastewater is as high as 1056mg/l, it has a dusky brown color, 160 times more color, it has an unpleasant odor, and the pH value is alkaline. Using a Dr.Ozone ozone generator (with an oxygen enrichment system), after ozone treatment, the COD value of the printing and dyeing wastewater decreased from 1056 mg/l to 240 mg/l, the color was reduced from 160 times to 18.0 times and total ozone consumption is 32 g/l.
Equivalent to 3.92mg ozone per 0.1mg COD value and 0.17 times color, COD removal rate is 77.3%, decolorization rate is 88.8%, odorless and pH value is neutral.