The Dr.Ozone D40S industrial ozone machine with the capacity of 40g O3/h is a high-end industrial ozone machine manufactured & distributed by HSVN Global. The machine uses advanced Canadian technology. Common applications of the industrial ozone generator are used in the process of domestic wastewater treatment, water disinfection, deodorization, disinfection; industrial exhaust gas treatment in Kitchens, factories, industrial deodorizers…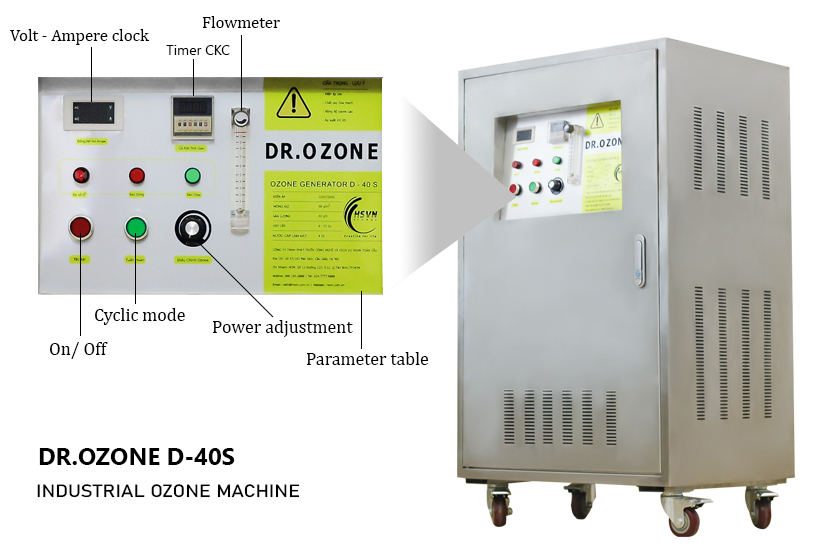 The Outstanding Advantage Of The D40S Industrial Ozone Machine
Own the H20-Green water-cooled technology
The ozone launch unit is improved and upgraded following the latest world technology, applied achievements of scientific – technology such as using Zeolite material, Silicagen, High Aluminum Ceramics …
Ensure the machine's operational performance 24/24h, "NOT OZONE DECLINE" in the condition at the temperature of 20oC, standard humidity of 70%.
The Ozone launch chamber of D40S use electrodes made of 444L & 304 inox steel, insulation material made of smooth UPVC to increase insulation and anti-dirt, anti-oxidation. It has an operating durability lifespan of over 100,000 hours that 5 times higher than other versions on the market.
Electronic components use the European standard solid-state material, CPU controller unit integrate the dedicated IC digital that all tested and suitable for conditions of industrial activities, extreme weather & climate in Vietnam, Asian countries.
The machine chamber consists of 3 inox electrodes and the ozone launch tube made of glass containing plasma crystals. The outside of the Ozone machine chamber uses UPVC plastic as a cover – increasing insulation and preventing dust from outside
Ozone machine shell: The outer shell of the D40S industrial ozone machine is made of durable material with bright white color.
Principles Of Creating Ozone In The Plasma Chamber Of 

Dr.Ozone D40S Industrial Ozone Generator
Oxygen is the main part to create ozone gas. Oxygen is always available in the air. Therefore, before creating ozone, the machine will undergo the operation of taking air from the outside by the exhaust fan.
After that, the outside air source will be processed by an air filter-drying tower containing a dust filter, moisture filter, impurities filter by molecular particles (Zeolite) such as 5A, 4A, 13X, LS-HA, … so the air source is always clean, dry and rich in oxygen.
Not only that, the rehabilitate part by the infrared lamp in the machine slot will work continuously to disinfect, filter dust to make the finished Ozone product is cleaner, have a higher concentration as well as increase the operating lifespan of the machine.
The air after being cleaned is put into the plasma chamber. In the plasma environment, under the influence of an electric field, the oxygen particles will move with a very large kinetic energy and split themselves into Oxygen atoms (to combine with excess oxygen molecules to create ozone according to the formula O2 + O -> O3).
At the intermediate electrode where plasma and ozone direct contact with zero voltage. The electrode is soft, spiral, which helps to stabilize the discharge slot and self-select to compensate for geometrical deviations due to fabrication, assembly or due wear and tear during use… At the same time, leading the airflow that has been accelerated, twist running, thoroughly collected and speeding ozone out of the plasma area to prevent them from not overheating, reducing the self-degradation of ozone (because Ozone has unstable character, easily decomposes into oxygen under normal conditions.