Dr.Ozone D270s industrial ozone machine product features:
Completely improved in terms of structural design, industrial style, solidity, high aesthetics, maneuverability (easily moved by bearing wheel system, with anti-slip safety lock)
Integrated ozone incident warning technology (warning light on control panel & Beep sound coming from inside the machine)
The upgraded Ozone chamber with longevity ozone generator unit of over 100,000 hours
Using anti-oxidation materials such as 304 inox & 444 inox, the monolithic engraved Teflon insulating plastic part replaces the UPVC plastic sheet (is often used in the common ozone room on the market, easy to oxidize and damage the launch chamber). Replace UPVC plastic with specialized Teflon plastic, monolithic engraving and Teflon ozone conductors anti-oxidation, anti-folding (conductors on the market often made of uPVC, silicone materials).
To ensure water-cooled technology safe for users, Dr.Ozone uses firm heat-sealed plastic pipes; the launch chamber & high voltage circuit board system are separated. In addition, Dr.Ozone D270s industrial ozone machine uses an external oxygen filter including an oil-free air compressor, drying and cooling system, separating and removing impurities in the air, enriching oxygen from 20.9% to 92%, stable air pressure of about 0.1MPa, ensuring performance and longevity ozone generator chamber.
Some Notes When Installing Dr.Ozone D270s High Capacity Ozone Generator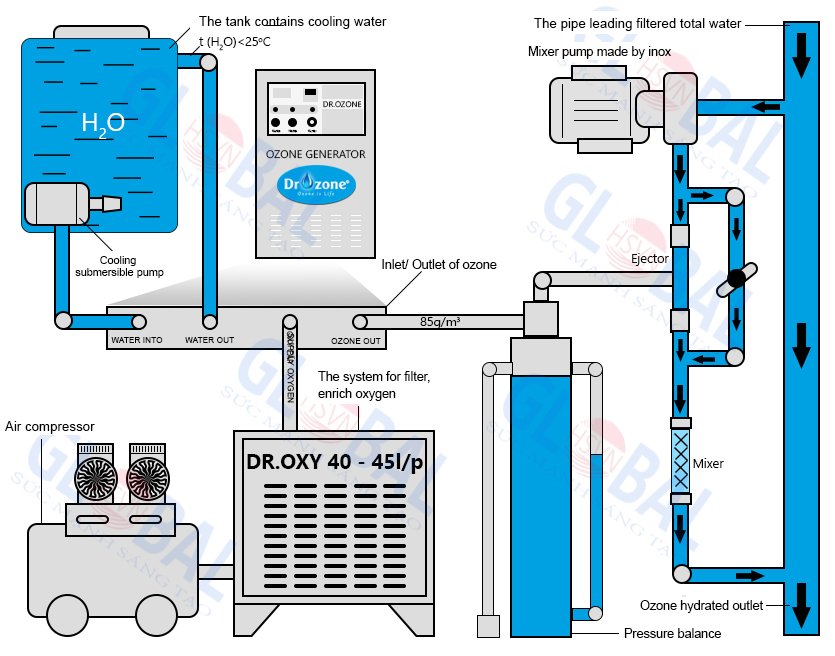 Dr.Ozone large-capacity ozone machine uses H20-Green cooling technology besides the Physical cooling system, so when installing, it is necessary to note a few important factors as follows:
Place the ozone machine at least 0.5m higher than the cooling tank above the water in the tank.
Use the recirculation pump supplied with the machine or purchase a submersible recirculation pump according to the operator manual.
System power supply AC220V. 50 Hz
Do not place the machine in a high temperature, high humidity environment; do not place it outdoors, or in an area without a roof.
Ozone output depends on environmental factors, so make sure the environment to place the machine is suitable. The best temperature to place the machine is 20 degrees Celsius & humidity is <70%. In winter, the capacity can increase by 10-15%.
Some actual pictures of industrial Ozone machines high capacity in industrial wastewater treatment projects
>>> See more other ozone machines: Dr.Ozone industrial ozone generators