The D120S ozone generator product features:
Give actual ozone capacity ≥ 120g/h
Integrated frequency control that allows adjusting capacity from 10% to 100% of actual capacity.
Electronic components and boards use solid material that reduces heat generation, increases performance, and industrial anti-interference.
Uses ozone generation technology by plasma discharge chamber which advantages are the produced ozone at lower energy consumption level, high ozone concentration of 80 – 85g/m3, the chamber lifespan is up to 100,000 hours.
Dr.Ozone D120S Industrial Ozone Machine performance is 30% higher than the old version & ozone machine on the market: Due to the D120S use synchronous components, CPU integrated with dedicated IC, large memory; The ozone generator tube is cooled by water and the outside is cooled by a heat sink aluminum plate, which has the effect of increasing the longevity ozone generator and stabilizing the ozone capacity.
Oxygen flow of about 25 – 27 l/min continuously supplies the launch chamber. Oxygen purity is over 90%, the impurities of Nitrogen, carbon dioxide, and agon are separated and filtered by Zeolite material technology. Zeolite filter column industrially packed, have quality equivalent to the medical oxygen machine with its longevity of 10,000 hours.
Due to its strong oxidizing properties, ozone (O3) can react chemically with most substances in nature. For example, ozone can react with formaldehyde in the air, decay, and remove air pollution in the environment. Ozone gas is used to remove kitchen odors and treat industrial exhaust gases. In the water treatment industry, ozone is most used in the sterilization phase, killing pathogenic bacteria, viruses, and organisms in the water. At the same time, it can react with organic pollutants in water to reduce COD.
Application of Dr.Ozone machine in aquaculture
Ozone is the ideal technology to disinfect, kill bacteria, viruses, and dissolved organic matter in a recirculating aquaculture model.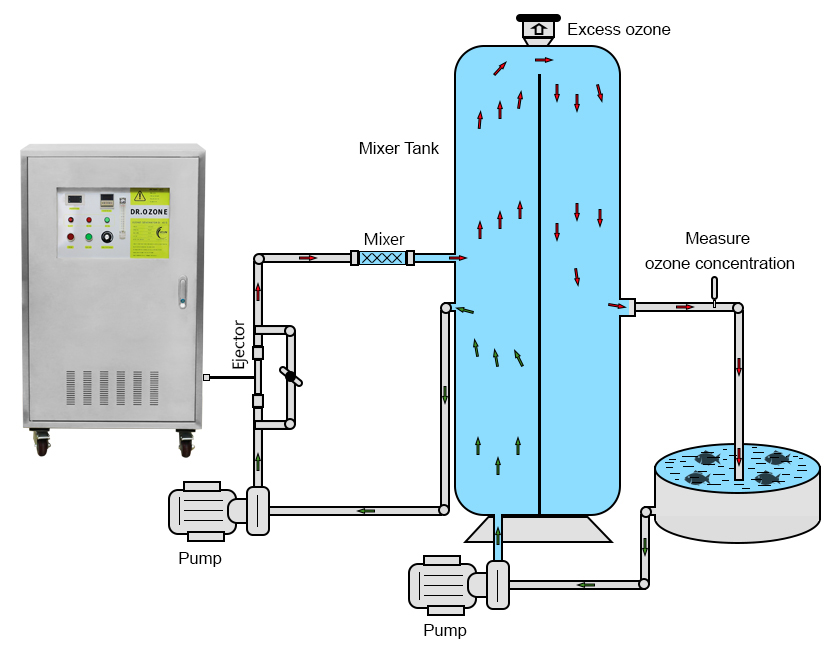 The advantages of ozone are reduced water usage, fast aqua growth rate and reduce disease spread in water. Ozone effectively removes pesticides, discoloration, nitrates and enriches oxygen in the water.
Some actual pictures of projects for installing industrial ozone machine
Image of installing D120s industrial ozone generator with a capacity of 120g O3/h to treat odors for Synztec Hai Phong factory 
The actual pictures of the industrial ozone machine system from other projects