Dr.Ozone Smart Clean Pro Multi-Purpose Deodorizer possesses BEAUTIFUL DESIGN, SAVING, USING EASY, SAFETY, CLEAN & INSTANT EFFECTIVE ODOR REMOVAL and most of all, MULTI-FUNCTIONAL is used with touch buttons.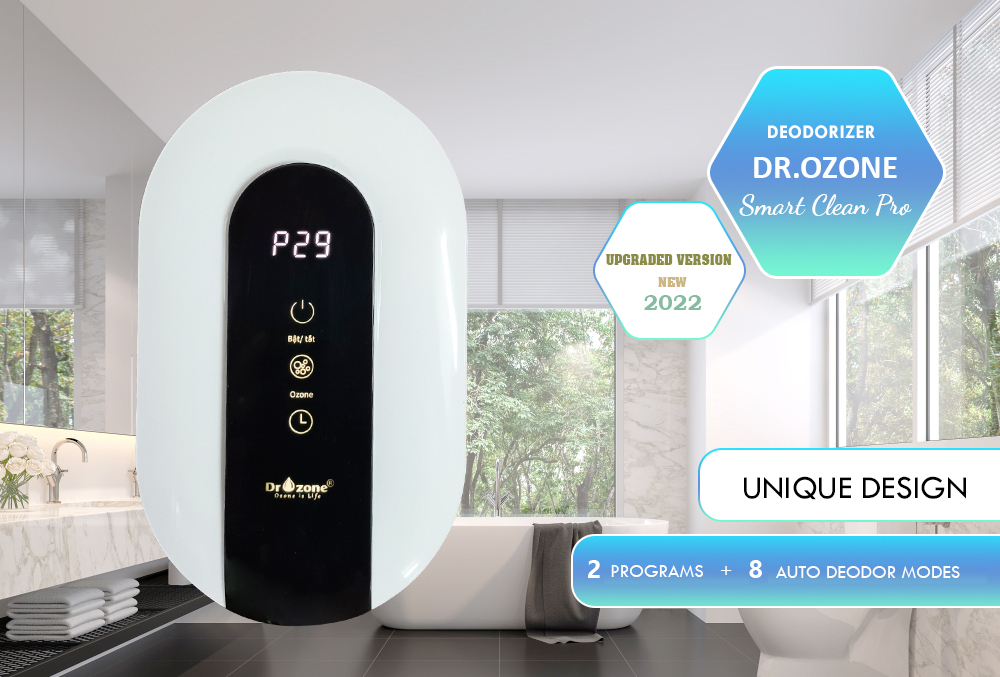 Why should you choose Dr.Ozone Smart Clean Pro Multi-Purpose Deodorizer?
Integrated recirculating deodorizing technology
The Ozone devices are great ideas for applications of killing bacteria and eliminating odors. However, in order to kill mold, germs, bacteria, viruses, pathogens, odors, volatile organic substances, it is necessary to use the machine continuously for a long time. Because of the origin beget odors and microorganisms cannot be treated thoroughly because they arise in human living activities.
The biggest advantage of Dr.Ozone Smart Clean Pro is that it integrates circulating deodorization technology includes 5 modes, with a scientific running time. So, users only install, connect the power source, select the mode, the machine automatically runs deodorizing mode, turn on and off at different times of the day and maintains a clean, healthy environment. Smart Clean Pro meets "Green equipment for beautiful life" criteria.
The main functions of Dr.Ozone Smart Clean Pro include:
Deodorize the toilet
Eliminate bathroom odors
Deodorize bedroom, living room, kitchen, lobby.
Deodorize pets.
Deodorize the elderly room.
Eliminate the smell of cigarette smoke.
Kill mold, bacteria, viruses, pathogens spread in the air.
Save costs
Using the Ozone machine to deodorize and disinfect is a proven method of saving 85 – 90% of costs compared to conventional methods such as using cleaning chemicals, room fragrance sprays, using essential oil spray equipment, … and other deodorizing methods.
Optimize design and operating

function
Dr.Ozone Smart Clean Pro is optimized in design and operating function, electronic components, internal structure to ensure the best deodorizing performance, prolong product longevity, easy to use & guarantee a "cheap deodorizing ozone machine" but has high efficiency.
How is the Smart Clean Pro machine of version 2022 different from the old version?
Compared to the 2021 version, the Smart Clean Pro 2022 has the following differences:
2 working programs: Smart Clean Pro 2022 is set up with two operating programs including Timer mode and Cyclic mode.
8 operating modes: Corresponding to 2 working programs, the 2022 Smart Pro has 8 operating modes including P4, P7, P30, P50 and E5, E510, E30, E60.
Use manual

Step 1: Hanging the machine
Dr.Ozone Smart Clean Pro has a hanging design, so it comes with a super-adhesive 3M sticker. In some cases, you can be drilled and nailed to the wall for hanging the machine  (The back of it has a long nail hole).
Use 3M stickers: For bathrooms, toilets or areas that have been paved with marble or painted concrete walls, you can use a convenient 3M design, without drilling that damaging the structure.
Wipe the surface to ensure that the surface is dry, free of moisture and water.
Peel off the plastic layer (side 1) 3M sticker, stick it on the back of the device.
Peel off the plastic layer (side 2), stick the device on the wall. Hold for about 30 – 45 seconds.
Step 2: Connect the power supply and use
Assembly Smart Clean Pro around an area with an outlet or pull the cord onto the machine hanging area.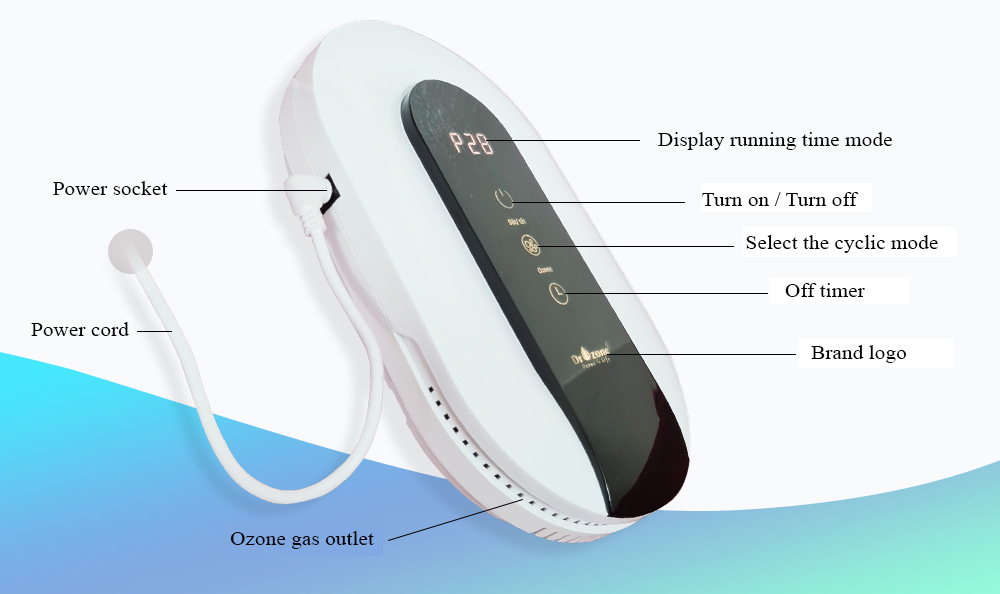 * Note: Place the device as high as possible, in a well-ventilated area, or above an area where odors are frequently generated; Do not place the machine in an area that is too humid, with moist air passing through or near a water source.
Connect the stable 220V/50Hz power supply, when the power is on, the light flashes with a "BEEP" sound.
Press the ON/OFF button to start the machine (or want to turn off the machine)
Press the OZONE button to set up the cycle program. With every press of this button, the machine will run transfer for modes of P4, P7, P30, P50.
Press the TIME button if want to use the timer program. Similar above, with every press of the TIME button, the machine will transfer for modes of E5, E10, E30 and E60