In fact, indoor air in cities is at a serious level of pollution heavier than outdoor air. The indoor air contains chemicals, dust mites, allergens and germs… directly affects the respiratory tract, can even cause serious health problems, especially in infants. Dr.Air Symphony A6 UV Antibacterial Air Purifier Deodorizer integrates the features of creating negative ions, sterilizing by UV and ozone to help remove fine dust, deodorize, and kill bacteria effectively in the air.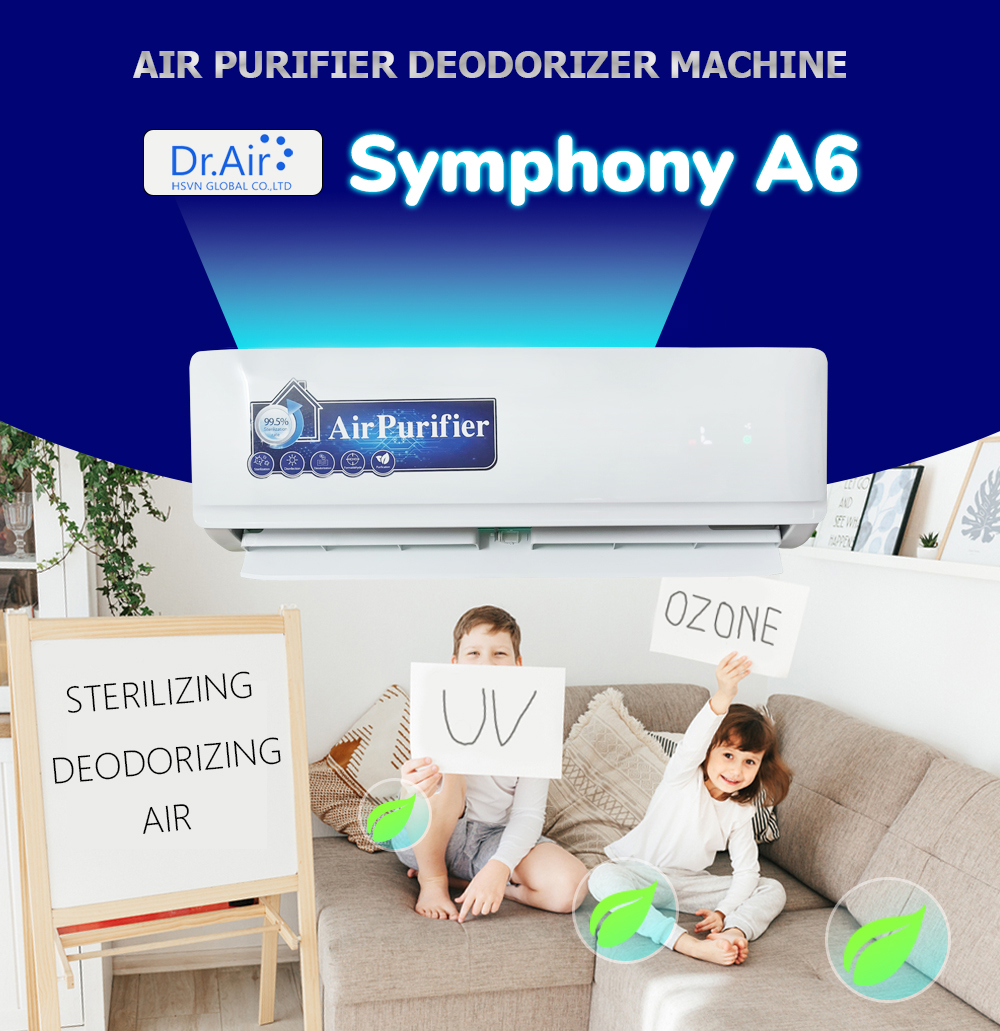 Dr.Air Symphony A6 UV Antibacterial Air Purifier Deodorizer product features:
Powerful air sterilization with extremely high CADR index: Dr.Air Symphony A6 machine has a CADR index of 580-600 m3/h shows high efficiency and performance in cleaning the room air.
Beautifully designed like an air conditioner, suitable for hanging on the wall that helps to save maximum space.
ABS plastic shell material is durable, environmentally friendly, safe for users.
Easily adjust the wind speed and working time
The convenient remote-control panel is easy to set up features to use
Integrate functions of creating ozone, UV and negative ion to maximize the effectiveness of removing particulate matter and harmful microorganisms in the air.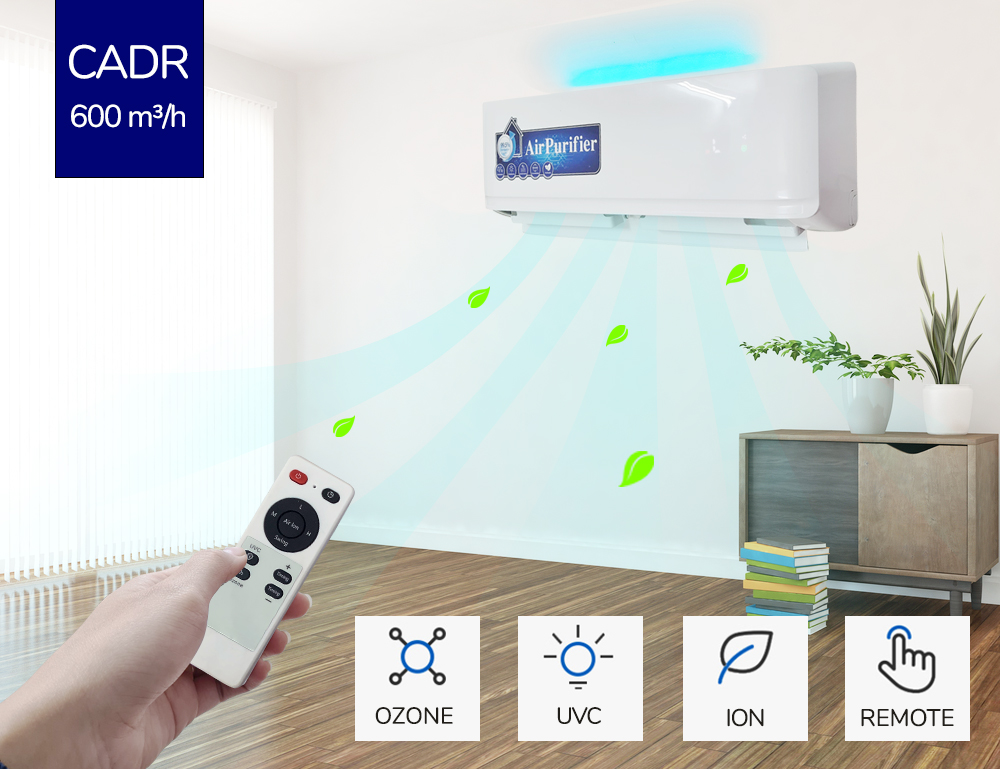 Dr.Air Symphony A6 possess three technologies to clean the air quickly
Negative ion technology: Negative ions are actually negatively charged particles and negatively charged populations. When existing in space, negative ions actively contribute to cleaning the air, removing fine dust, suspended solids and unpleasant odors. This is caused because most pollutants, smoke, dust, bacteria and allergens suspended in the air all carry positively charged particles; Negative ions will bind to these particles causing them to become heavier and fall to the ground.
In addition, negative ions also bring many benefits to the health of the user when they help strengthen the human immune system such as enhancing blood circulation, helping lift the spirit, regenerating cells …
Ozone technology: Ozone is a redox agent, so when is put into the air, it easily attacks chemicals and inactivates harmful microorganisms. The deodorizing and disinfecting effect of ozone is many times higher than conventional air cleaning methods as using essential oils or aromatic wax …
UVC: UVC is UV light with a wavelength shorter than 280 nm. They have been shown to be highly effective in disinfecting and cleaning the air but are safer for humans than UVA and UVB rays. The action principle of UV is to destroy nucleic acids and damage DNA of bacteria, making them unable to perform cellular functions, thereby being completely destroyed. Any location is shined with UVC light will be antibacterial and disinfecting.
User manual
The way to use the Dr.Air Symphony Air Purifier Deodorizer is very simple and convenient with supporting of the remote control, you can perform the following steps:
Step 1: Connect the device to a 220V power source. When the electricity flows through, the machine will make a "pip" sound.
Step 2: Use the remote control buttons to set the features. Press the "On/Off" button to turn on the device, press it once more to turn off the device when there is no need to use it.
Step 3: Press the buttons on the control panel to open the negative ion, ozone, UV production feature or adjust the fan speed.