Advantages of the Dr.Ozone Bacteria 5 Antibacterial Disinfection Machine:
Clean Bacteria 5 is a high-capacity ozone generator with an output of 5g/h that allows quick room disinfection with an area of ​​50 – 60m2, disinfection time is reduced to 5-10 minutes for small areas.
Easy to move the machine with high mobility: CANADA technology ozone disinfection machine with a stainless steel handle, compact design, the optimized weight makes it easy to move anywhere, disinfecting every corner indoor or public area.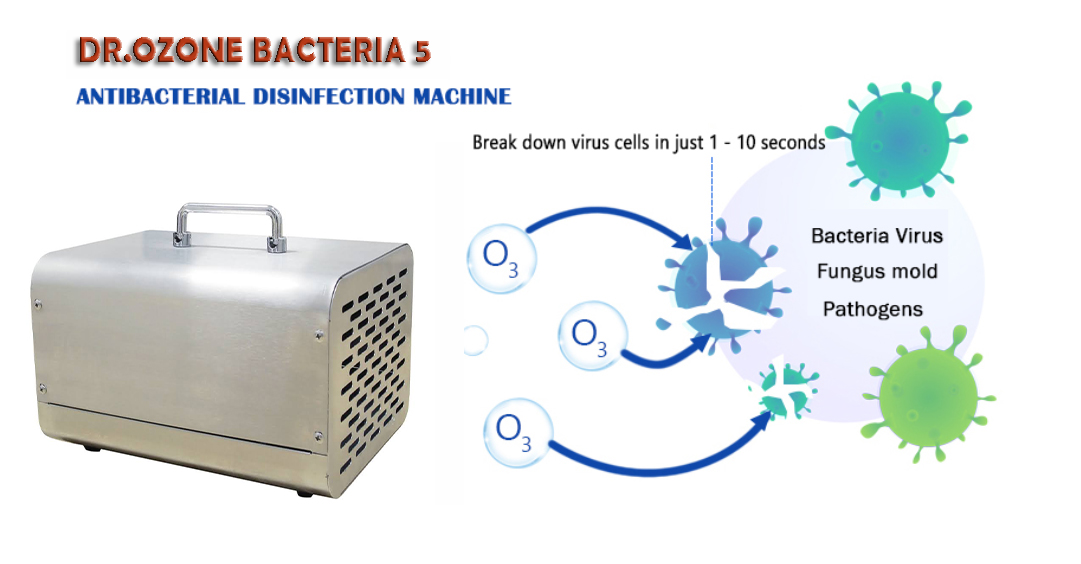 Ozone is a gas molecule, so its sterilization capacity is wide, can penetrate into small areas, narrow spaces. Ozone sterilization time is only about 1 – 10 seconds that 3000 times faster than conventional disinfectants.
The ozone machine does not need to add chemicals when operating that help minimize operating costs. Dr.Ozone sterilizer machines are especially suitable for disinfecting hotel rooms, restaurants, cafes, and shops during epidemics such as Covid-19. In fact, during the COVID-19 epidemic, China used Ozone machines to disinfect rooms, disinfect money & disinfect hospitals.
Our Ozone disinfection machines are a reputable brand that is supplied to medical centers and hospitals to disinfect operating rooms, halls, and disease rooms.
User manual
Step  1. Plugin the power for the machine 220V/50HZ.
Step 2.  Adjust the operating time of the machine through Timer as the figure.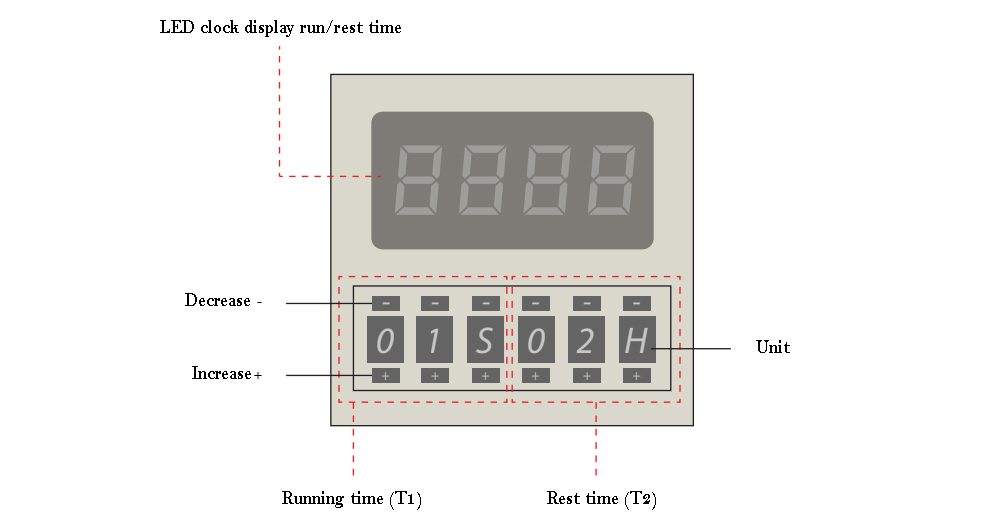 Note:
Unit: S (Second); M (Minutes); H (Hour).
(-) : Decrease or change units
(+) : Increase or change units
Example: Run time: 01S – Machine runs for 1 second; Rest time: 02H – The machine stops for 2 hours.
Timer operation mode
The running by Timed/ Circulation (cycle) mode:
When using the cyclic mode, the machine operates in cycles (RUN/REST) according to the time set by the user.
The mode is activated when running time T1 # 0 (Example, running time T1 = 15M = 15 minutes) and T2 #0 (Rest time T2 = 30M = 30 minutes), then the Dr.Ozone Bacteria machine will work continuously for 15 minutes, then the machine will turn off (STOP) for 30 minutes. After a 30-minute break, the machine will automatically turn on, run continuously for 15 minutes, and rest for 30 minutes. The cycle repeats continuously until there is a stop signal from the user.
The running by Rest mode:
The mode activates when running time T1 # 0 and rest time T2 = 0. For example, T1 = 20M, T2 = 0, the machine works for 20 minutes, then shuts down.
Step 3. Turn on the on/off switch to the machine operating according to the set mode.
Some recommendations when using the machine:
Place the machine in a cool, dry place at a height of at least 1 meter above the ground.
Only set the continuous running mode when the room has a strong and persistent odor.
Regularly clean and wipe the outside of the machine case with a soft cloth.
Use a machine with a suitable capacity for the room area according to the machine's parameters.
Patients with asthma, having breathing problems avoid exposure to ozone gas.