Dr.Ozone Titan 5 wall mounted air purifier deodorizer, despite its simple design, is capable of generating 5g O3/h that is powerful enough to deodorize, kill bacteria, remove mold spores or other harmful molecules in rooms with an area of ​​40 to 60m2.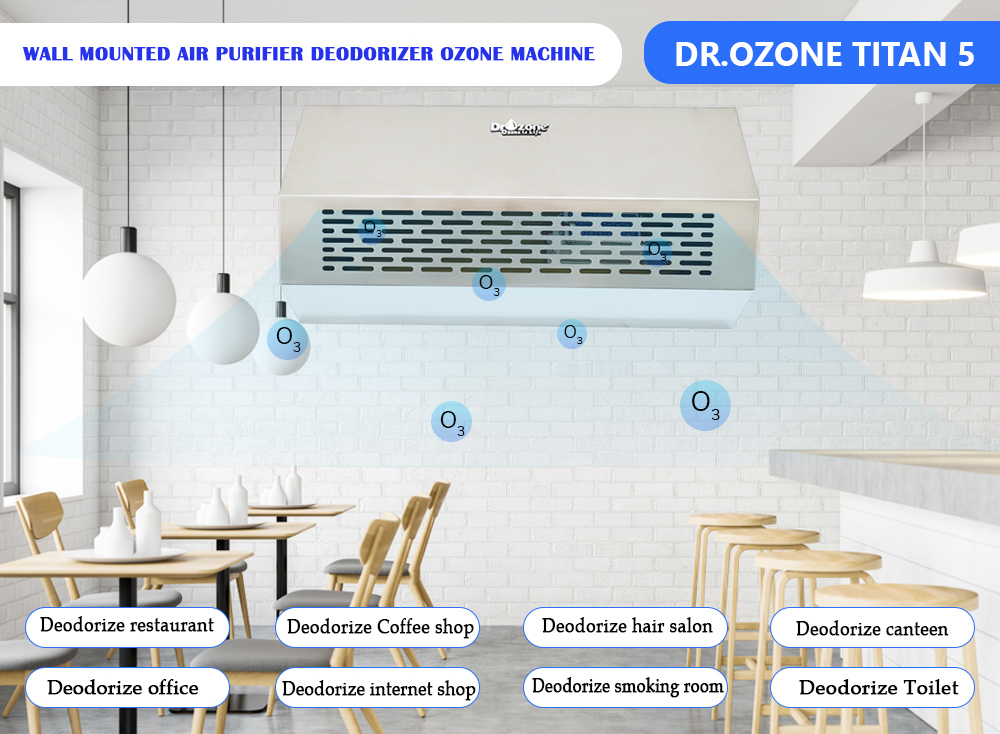 Dr.Ozone Titan 5 Wall Mounted Air Purifier Deodorizer product features:
Has simple design, easy to install in spaces such as kitchen spaces filled with smoke and odors; or in public spaces such as schools, hospitals, corridors…
The outer shell is made of inox that is an environmentally friendly material, minimizes rust, despite the harsh conditions of the weather.
Easy to clean the machine during use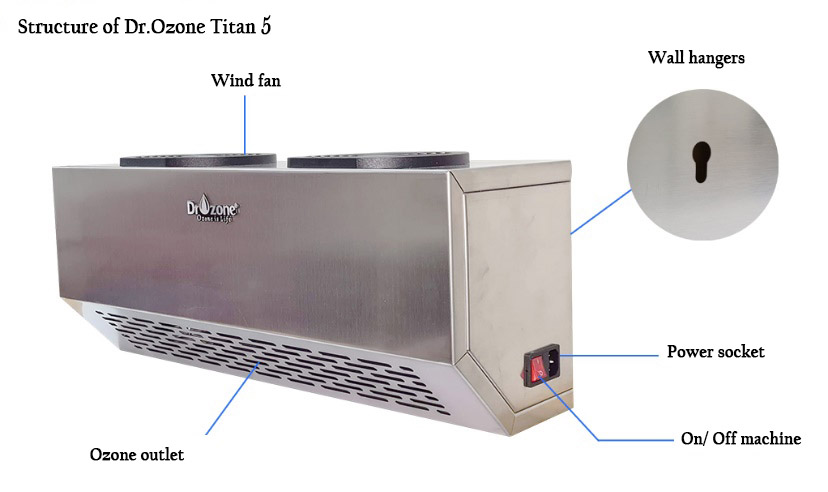 Ozone technology- Top air deodorizing solution
Ozone is a gaseous molecule with strong redox properties. It has a redox rank only after fluorine and OH- radicals. According to that, ozone can react with more than 300 different chemicals to form new products.
For chemical compounds, ozone creates chemical reactions. With microorganisms, ozone affects the microorganism cell envelope, interrupting the metabolism, thereby killing bacteria and viruses effectively. According to the latest research by Japanese scientists, even with coronavirus, ozone can also inactivate them.
By the above ability to deodorize and kill bacteria mentioned, ozone has been widely used in many different air-cleaning devices. Including, the Dr.Ozone Titan 5 also applies this technology.
Ozone itself has strong redox properties, so Dr.Ozone recommends users to turn on the Titan 5 when the room is empty of people and pets. The best use effect is when the machine is turned on in a closed room, after the machine stops working, users should open the room door for ventilation and after that, turn back the room after 15-30 minutes.
For more specific advice about Dr.Ozone Titan 5 wall mounted ozone machine, please contact us directly via ChatBox, inbox Messenger for the best advice..