Dr.Ozone D20S Industrial Ozone Generator product features:
Applying comprehensive upgraded & improved technology based on the latest scientific-technological achievements such as Zeolite filtration technology, Silica gel moisture-proof, Plasma technology…
Using effective insulating and anti-oxidation & anti-corrosion materials such as 304 inox, 444 Sus stainless steel, high-grade dry solid type monolithic accessories. In addition, the machine also uses Teflon plastic conductors, which are resistant to oxidation & corrosion as well as good heat resistance up to 400oC, good electrical insulation that is not affected by electromagnetic fields. A big advantage of Teflon does not be fold to jam the gas passage.
Integrated Ozone Canada technology in the production line of components and equipment that allows the machine to operate continuously, without ozone loss under standard conditions (temperature 20oC, humidity 70%).
Using two advanced technology to control and balance the ozone chamber temperature: Physical cooling technology & H20 Green cooling technology (cooling water). Both technologies are optimized, providing 30% higher machine efficiency than the old version and other ozone generators on the market.
The motherboard, CPU & IC system is optimized: The performance of creating Ozone from oxygen molecules passing through the Ozone chamber depends heavily on the processing performance of the frequency converter board, pulse transformer. Therefore, Dr.Ozone always uses the high-frequency unit, dry solid monolithic components, CPU integrated with dedicated IC digital circuits, synchronous circuit board system that have good industrial anti-interference ability.
High-concentration pure oxygen supply unit reaches 92% under standard conditions: In fact, the concentration of supplying purified oxygen will determine the concentration of finished ozone. The Dr.Ozone D20S machine uses an ozone generator unit that follows the medical standard has high concentration, is vacuum molded and has been standardized according to a process equivalent to famous prestige oxygen machine brands. Oxygen concentration reaches over 92% in conditions at 20oC and 70% humidity. The lifespan of the oxygen generator is 10,000 hours, the gas compressor system. Its warning system, automatic protection system, the timer allows you can check and replace the filter column periodically.
Other outstanding advantages of Dr.Ozone D20S include: Operating flexibly through "Timer CKC", adjusting ozone capacity easily, the longevity ozone generator chamber up to 100,000 hours.
Application of ozone technology in industrial kitchen smoke & waste gas treatment
The industrial kitchen exhaust & smoke treatment model of HSVN Global using Dr. Ozone machine combined with Dr.Air electrostatic filter & oil separation system in exhaust gas inlet brings the deodorizing effection immediately and quickly even with stubborn gases such as H2S, Ammonia NH3…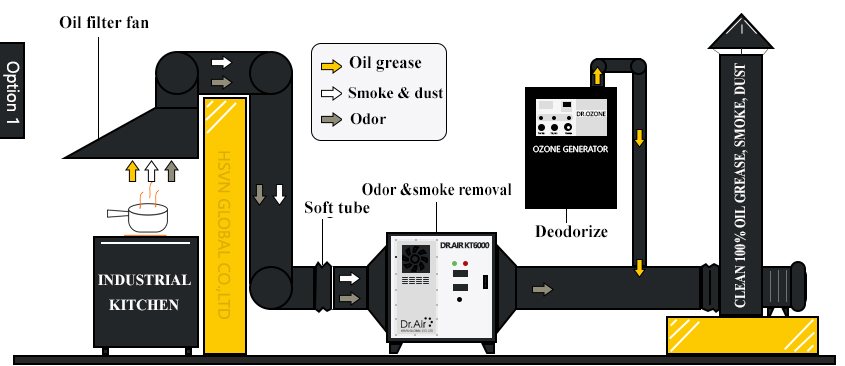 The above comprehensive kitchen smoke treatment system model can achieve 98% – 100% treatment efficiency, the output emissions are completely clean of odor, smoke & oil filter, meeting the national emission standards.
Industrial Ozone Generator in The Final Stage of Wastewater Disinfection
Ozone has strong oxidizing properties that can kill most bacteria, destroy all E-coli in just 20 seconds, neutralize Bacillus Bacteria – Bacilli in just 30 seconds at a threshold of 0.2 ppm (0.2mg/l). Can destroy 95% of intestinal viruses in 29 minutes with the Ozone concentration at 4.1ppm, kill 99.5% of hepatitis A virus in 2 seconds at a 0.25ppm ozone concentration threshold, kill influenza viruses at 0.5ppm concentration…
Therefore, the ozone generator is commonly used for water disinfection, replacing common Halogen chemicals such as Chlorine, Bromine. Ozone is also used in the process of washing fruits and vegetables, cleaning food surfaces or food preservation (FDA/USDA/FSIS approved the use of Ozone as a disinfectant in food preservation and processing).
The model of using ozone for wastewater treatment: Ozone is used in the 5th stage after the wastewater is treated through 4 stages of primary settling, aerobic biological treatment, secondary settling tank, sand filter tank.
Advantages of using Dr.Ozone D20S Industrial Ozone Machine in Disinfection
No produce derivatives of ammonia (Chloramines), chlorine by-products such as trihalomethanes (THMs) including CHCl3, CHBrCl2, CHBr2Cl … that cause bad health effects.
Bring stronger sterilization effection: Ozone reacts immediately, destroys, neutralizes, completely kills bacteria. For example, Cryptosporidium bacteria will need a dose of 7200 mg.min/l of chlorine to kill while using Ozone with only about 10 mg.min/l has the same effect.
No need for the storage warehouse like other chemicals: Ozone is produced directly through the Dr.Ozone industrial ozone generator.