Dr.Ozone D60S industrial ozone generator product features:
Have a standard capacity of 60g/h.
Can work stably, continuously without making decline ozone amount due to integrated dual cooling technology: 1. Heatsink aluminum fan; H20-Green water-cooled next to the ventilation fan system and scientific designed ventilation door
Solid electronic components, CPU control system integrated with dedicated ICs, signal anti-interference ability, flexible handling, increased machine performance.
Improved Ozone chamber based on Canadian Plasma technology for conversion efficiency from Oxygen to Ozone get maximum over 95%
Use a gas pump system, an oxygen filter unit with a flow of 4-5 l/min, which work stably and give the concentration of pure oxygen reaches over 92% (Results in the condition of the machine operate below 23oC, humidity less than 70%), equivalent to industrial oxygen machines used in medical & human health care.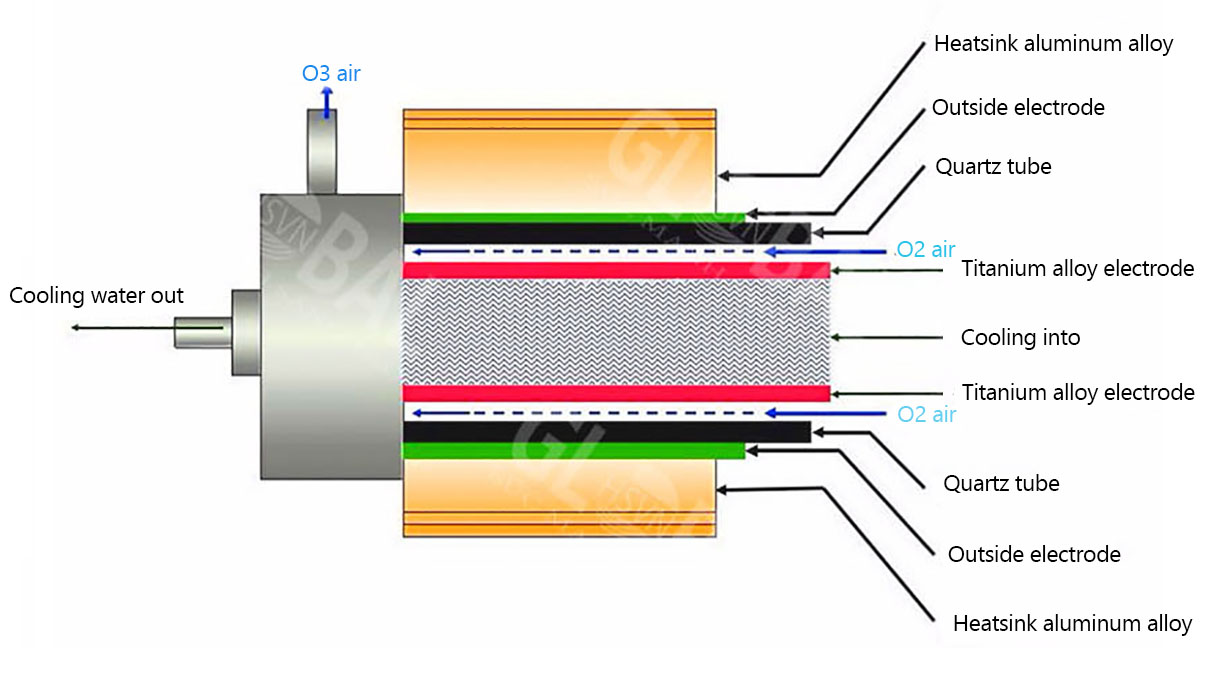 The D60s high capacity ozone generator is designed to suit every customer needs
The D60s machine or other industrial ozone machines Dr.Ozone® brand has many improvements to supply high-capacity ozone machine products suitable for each project and use purpose with the desired treatment performance to achieve the highest level.
Some improvements of Dr.Ozone D60s industrial ozone machine include:
Material: The machine shell uses traditional 304 inox material & a blue powder-coated steel version.
Three improved versions: D-S series (all-round premium version) uses H2O-Green water cooling technology, D series usually uses aluminum heatsinks, physical cooling fans; The lines dedicated in exhaust gas treatment (With a distinctive structure, the outlet uses a ϕ70 or ϕ90 size pipe, which helps to deodorize and disinfect faster).
100% Ozone conductors use specialized Teflon plastic that makes anti-oxidation, corrosive, folding causing ozone jam.
Ozone accessories included: Diversity of types, which means that we always have the available effective treatment plans, suitable for each type of project, work & customer requirements.
Scientific design: scientific component structure & circuit board that has industrial anti-interference ability; water passes made of heat-welded PVC pipes; the suitable position of cooling fans as well as increase the numbers of ventilation doors to help air circulate and better heat dissipation.
Application of Dr.Ozone industrial ozone machine integrated into the industrial food washing system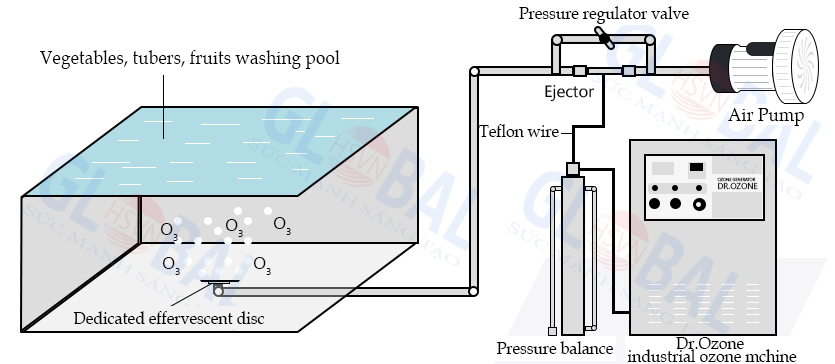 WHO/FDA/USDA/FSIS recognized and encouraged to use of Ozone as a chemical allowed to be used in the process of preserving and cleaning food (Vegetables, tubers, fruits, fresh foods). Ozone easily kills most bacteria, mold fungus, and pesticides that stick to the food surface helps to clean the food surface, increases the storage time by two times and is absolutely safe for human health. Currently, MEAT Deli clean meat system also uses Ozone to disinfect fresh meat food, VinEco uses ozone to wash vegetables and fruits (These are two prestige and quality food supplier brands in Vietnam)., etc
Application of Dr.Ozone in treating industrial coffee roasting smoke 
Besides the function of water disinfection and water treatment, Dr.Ozone D60S is widely applied in the industrial exhaust gas treatment models, industrial kitchen deodorizers.
The above model is the exhaust gas treatment process of the industrial coffee roasting system. The system includes a stamping tower (industrial adsorption tower) to reduce dust, soot, smoke, odor, temperature; a cooling system separating water and oil; a dust filter and smoke removal system.