The UVC light is part of the ultraviolet ray light spectrum, which emits high frequencies of UV rays making it extremely effective in killing bacteria, viruses, mold and other pathogens.
The Dr.Air UV-100W disinfection lamp uses 185nm (Ozone + UV) & 254nm (UV) wavelengths are two wavelengths with the best sterilization effect.
Some notes when using UVC sterilization lamp with short ultraviolet wavelength 185 – 254nm:
Sterilizing a room that should not have people, so means that during the time the UV lamp is operating, you should leave the room and close the door.
Disinfection time should be 15 – 30 minutes or longer. Use the remote control to turn the device on and off.
For the UV lamp model using 185nm UVC bulbs, it is recommended to close the door for an additional 15 – 30 minutes before opening the door.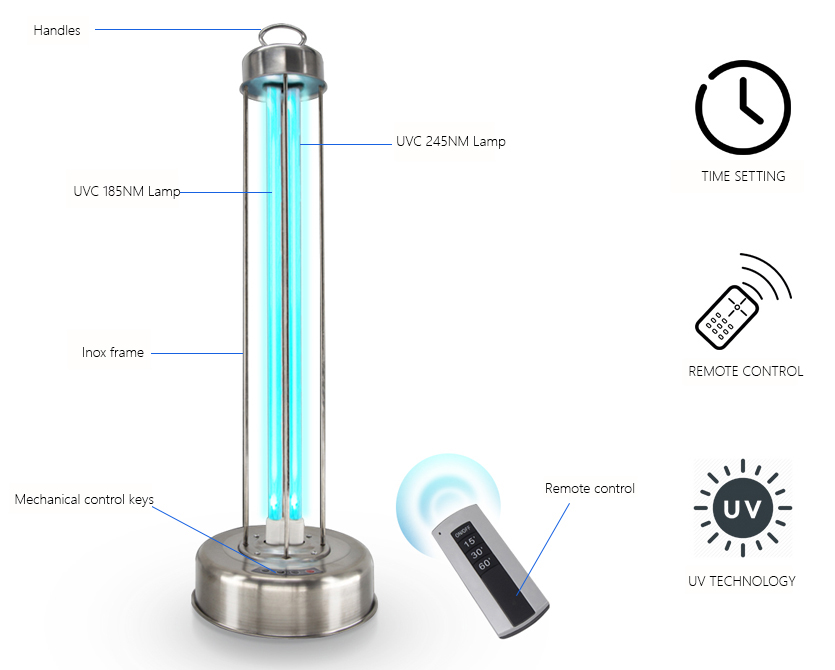 Advantages of the Dr.Air UV-100W disinfection lamp:
Use inox material increases the durability of UV equipment, protect better UV lamp, is easy to clean & good oxidation resistance.
Has a long life of >10,000h
Use 245nm & 185nm wavelength versions for quick sterilization and disinfection.
Equipped with remote control with three timer running modes of 15 minutes, 30 minutes & 60 minutes.
Easy to use, disinfect anywhere.