Bun Cha Binh Chung restaurant, located at 88 Le Van Huu, Hai Ba Trung District, Hanoi, is an attractive dining place, combining direct eating service at the restaurant and online food ship delivery, with a relatively large number of customers. Due to the intensity of cyclical and continuous processing, the food contains a lot of fat and produced a relatively large amount of smoke and odor.
In order to ensure that the restaurant smoke emission due to cooking meets the standards before being discharged into the environment, avoiding disputes and affecting many families and businesses around, Bun Cha Binh Chung contacted Dr.Air to receive advice on solutions and systems for treating grease and exhaust smoke.
Customer name: Bun Cha Binh Chung restaurant
Address: No. 88 Le Van Huu, Hai Ba Trung District, Hanoi, Vietnam
Product: Dr.Air KT4000 electrostatic precipitator
Quantity: 01 machine
Requirements: Handling grease smoke
Basically, the cooking area is located on the 1st floor. Here there is a smoke exhaust fan, according to the pipe system, it will be brought up to the 3rd floor. We installed the KT4000 electrostatic filter in this area. The Dr.Air KT4000 electrostatic precipitator restaurant contains 8 Tungsten wires, using anode ionization technology, creating a corona discharge process, causing small particles to accumulate into large particles, increasing the ability to filter dust and handle smoke, collect grease, smoke even 0.01-micron particles.
Some Actual Project Photos – Electrostatic Precipitator Restaurant Are Recorded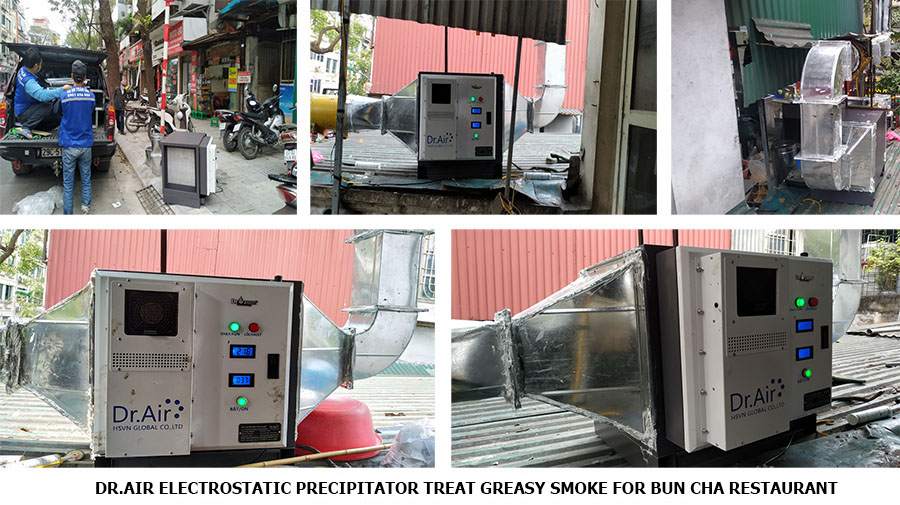 After completing the installation, the system was immediately put into operation. Dr.Air proactively contacted the restaurant again after a few days, and it was not unexpected, our electrostatic filter equipment handled smoke very effectively, receiving positive feedback from Bun Cha Binh Chung.
Customers wishing to order or learn more about our products, please contact us via Chat Box or Hotline for free consultation and quick quotation.