Customer information:
Customer Name: Mr.Linh
Address: No. 38 Mai Hac De, Hai Ba Trung District, Hanoi
Quantity: 01 machine
Requirements: Treating emission for Bun Cha restaurant
Bun Cha is a famous delicious dish of Vietnam, also is an exquisite dish that's intricately linked to Hanoi that any foreign visitor when coming here should enjoy at least one time.
For delicious grilled meatballs and golden skewers of shiny meat, the roasting stage is very important. The level of the fire and the time alignment must be precise and extremely meticulous. At the same time, such frying is also the source of the amount of kitchen grease, kitchen smoke, the smell is more and more stuck. Because don't want when customers come to the restaurant to enjoy delicious foods when leave, they will be stuck with the smell of grease and smoke …Mr. Linh – the owner of the bun cha restaurant located in Mai Hac De – Hai Ba Trung district, Hanoi contacted us for detailed advice on the most effective solution to handle the restaurant smoke and grease smell.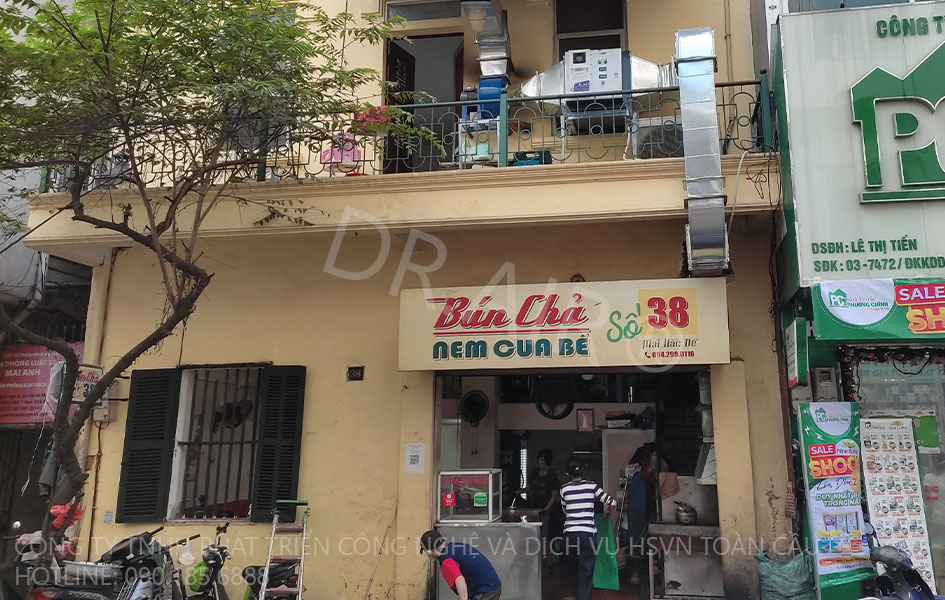 Electrostatic Precipitator Removes Restaurant Smoke 
After actually surveying the location, area and architecture of the Bun Cha restaurant, we recommend using the Dr.Air KT4000 electrostatic precipitator.
Features of Dr.Air KT 4000 electrostatic filter is an equipment line possessing modern electrostatic precipitator technology, medium capacity, suitable for personal and household business models with cleaning efficiency are 98% and above. The electrostatic precipitator removes smoke is suitable not only for small and medium industrial kitchen smoke treatment projects but also widely used for printing workshops, CNC workshops, etc. with treatment flow is about 3500m3/h to 4000m3/h.
Electrostatic filter technology is capable of handling and collecting microscopic dust particles with a size of 0.01 micron, collecting grease, smoke in kitchen exhaust treatment & other exhaust gas treatment applications. The Dr.Air KT400 electrostatic precipitator is designed to be extremely solid, high quality, beautiful design and especially capable of 24 hours operation with minimal power consumption, easy installation, and does not affect the emissions treatment system available.
Outstanding advantages of Dr.Air electrostatic precipitator:
Specially designed for industrial kitchen smoke and emission treatment function.
The Dr.Air electrostatic filter system combines two stages of collection and generation of separate electric fields (particle loading), increasing processing capacity, processing time, and treatment efficiency.
There is a Chiller for cooling, a dust filter membrane to provide clean air to cool the board, control system, and maintain machine performance in the best working state.
Dr.Air electrostatic precipitator combined with equipment accessories and treatment system forms a comprehensive – thorough exhaust gas treatment system.
Products are always available, order custom design only from 7-10 days.
On-site warranty support, warranty spare parts are available.
100% of ex-factory products are actually tested, with an ex-factory certificate attached.
The treatment plan is flexible and diverse, suitable to the actual terrain of the project and the project budget.
Customers who are interested in electrostatic precipitator products in particular and kitchen exhaust treatment systems in general, please contact us via Chat Box or hotline 090.185.6888 for a free consultation and receive a quote quickly.