UV light sterilization technology has been applied in practice since the 1910s, until 1930 it officially became the commercial product and rapidly developed over the world. Over time, UV technology has also made great improvements, more studies on the sterilization effect of UV as well as the different effects of different wavelengths of UV light have also been clarified. To date, the two most common types of UV light used for sterilization are UVC 185 nm and UVC 254 nm. Another type of UVC light that is more appreciated for its efficiency, as well as human friendliness, is UVC 222 nm.
Dr.Air FELIX-222nm Antibacterial Disinfection Lamp product features:
• Can use when having the presence of a human. It absolutely safe
• Maximum sterilization and de-bacterial effect
• Access to every point in space, limiting all "blind spots" – hiding places for bacteria.
Dr.Air FELIX-222nm lamp uses 222nm wavelength UV light that does not negatively affect the skin and eyes, designed to meet the needs of air sterilization but still ensures absolute safety for humans.
The Antibacterial Disinfection Lamp has a wide range of applications – Safe in any space

Under the pressure of the side effects that ultraviolet light causes on humans as well as the requirement to find effective sterilization equipment when the COVID-19 pandemic spreads strongly, scientists have not stopped researching deeper, more extensive ways about UV sterilization equipment. The results show that, in the wavelength range of ultraviolet light, light with 222nm wavelength still ensures the sterilization effect but the impact on humans is almost zero.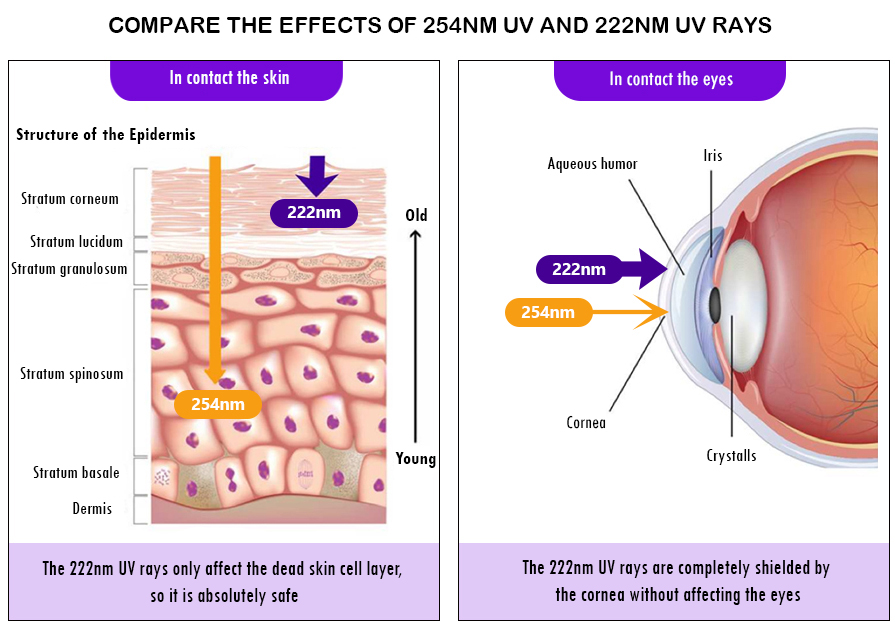 The introduction of UVC-222nm sterilization lamp has opened a new direction in the field of UV sterilization lamp application. The device ensures two factors at the same time: effective sterilization and safety for users.
Safe & diverse applications for any space
Delicate & high-end design
The 222 nm UVC lamp is maximum protected