Although not as toxic as industrial areas, the military kitchen system of the Ministry of Defense in Cau Giay District, Hanoi (Vietnam) has a relatively large scale and high pollution smoke discharge rate. Although it is equipped with a full smoke suction system, because of the long use time and degraded quality of the system, the treatment efficiency is poor and needs to be improved. Specifically, the unequal distribution of air on the hood causes serious smoke and odors around the building; some fresh air intake into the room is near the kitchen exhaust gas discharge point, which is extremely toxic.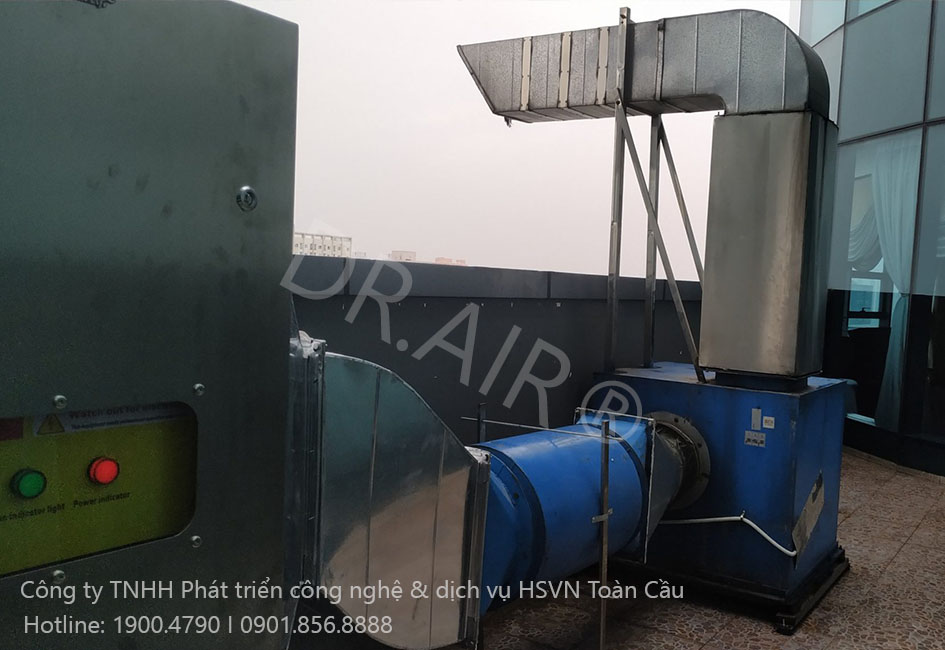 To thoroughly handle this problem, the Ministry of Defense trusts a reputable quality electrostatic precipitator manufacturing and distribution company from the Dr.Air brand.
In order to treat the collective kitchen exhaust gas of the whole army, after a thorough survey and calculation, the technician of Dr.Air has a plan to thoroughly handle the smoke and smell of the common kitchen by using the large capacity Dr.Air KT16000 Industrial Electrostatic Filter
Customer Name: Ministry of Defense
Address: 789 Building, Hoang Quoc Viet Street, Nghia Tan Ward, Cau Giay District, Hanoi
Product: Dr.Air KT 16000 electrostatic precipitator
Quantity: 01 machine
Requirements: Renovate the kitchen odor treatment system and install a fresh air supply system for the kitchen
After the exhaust gas treatment system has been installed, it has come into stable operation. With experience and reputation in this exhaust gas treatment field, Dr.Air confidently affirms that we are the brand that brings quality products and services, supports customers from A to Z, solves and handles all problems quickly.
Customers wishing to order or learn more about our products, please contact us via Chat Box or hotline (+84) 090.185.6888 for a free consultation and quick quotation.