Ozone is the most cost and effective way to solve odor issues, reduce environmental harmful impact and decrease fire risk from commercial kitchens.
Ozone generator for exhaust gas treatment
Why use ozone for kitchen exhaust gas treatment?
Commercial kitchens where often cook at high heat, use deep fryers … so the cooking fumes and exhaust air will contain large grease particles amounts, odor molecules, soot and heat energy. The grease under the effect of heat will transfer to gaseous form, liquid form, or aerosol form.
If not using ozone application for exhaust ventilation of commercial kitchens, the large grease particles in the kitchen hood will be entrapped back. Part of smaller airborne grease particles and odors will through the ventilation duct adhere to the fan, the duct walls, the heat exchanger or the pre-filter, etc. The rest part passes into the environment.
Over time during use, fat deposits will accumulate in the kitchen ventilation system that is a large fire hazard if grease ignites.
Besides, odors emitted from the commercial kitchen ventilation exhausts to the surrounding environment can make residents complain.
Dr.Ozone & Dr.Air industrial kitchen dust, odor & exhaust gas treatment system
The deodorizing method by using Dr.Ozone machine integrate Canada Ozone technology combined with filter electrostatic smoke removal system has widely applied in the odor treatment field of industrial kitchens, restaurant kitchens, BBQ hot pot stoves, hotels, the restaurant in apartment buildings, densely populated areas, factory kitchens, schools, military,… Bring great results in the cleaning of exhaust industrial kitchen before being discharged into the environment.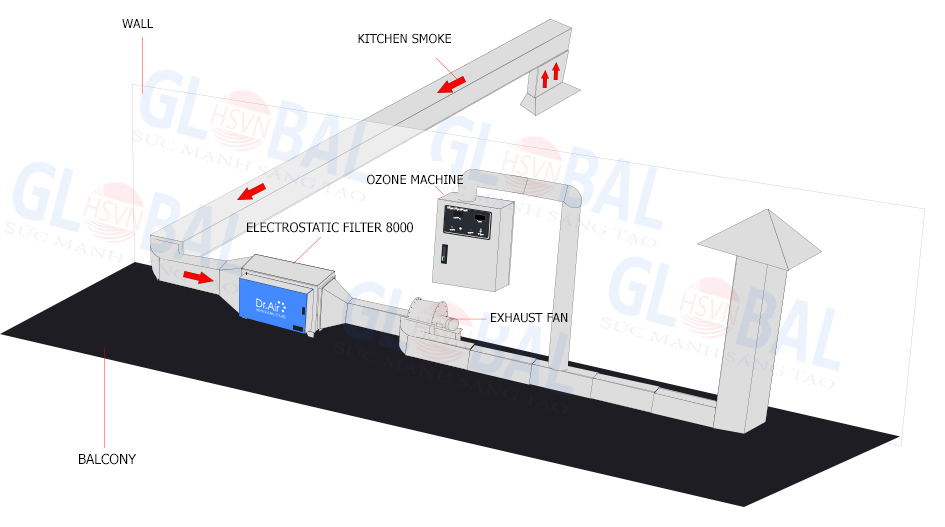 A comprehensive industrial kitchen exhaust treatment system includes 3 advanced steps:
Gas collection system: Dr.Clean H2O brand capture sucks system (produced by HSVN Global) does not use filters,  that collects oil and steam right at the head is 60 – 70% effective (can reuse collected grease), only smoke and odors go past.
Eliminate smoke with ESP (Electrostatic Precipitation Filter) Dr.Air electrostatic filter technology: The effect of an electrostatic filter machine is to remove smoke, collect residual oil in the exhaust gas by an electrostatic filter system. The smoke removal efficiency is over 95% – the machine capacity is calculated according to the exhaust gas flow to be treated.
Ozone deodorizing technology: Dr.Ozone industrial ozone machine is installed in the last stage of the system, has the effect of deodorizing & disinfecting the air.
Contact us today for the most effective commercial kitchen exhaust gas treatment solution, optimize cost. Our technical team who are professional, experienced and knowledgeable will always ready to listen and answer all your questions. You can contact us any time via Chat Box or :
Dr.Ozone Headquarter
Address: No.30, Truong An Industrial Cluster, An Khanh Commune, Hoai Duc Dist, Ha Noi city, Viet Nam
Website: dr-ozone.com
Inbox us:
Fanpage Dr-Ozone