The main technology platform of comprehensive kitchen smoke treatment system includes the system of Dr.Air electrostatic smoke filter, Dr.Clean H20 ultrasonic fan steam oil separator technology & Dr.Ozone® Ozone technology deodorizer, activated carbon, UV-C.
The comprehensive kitchen smoke treatment system parts function:
The specialized Dr.Clean H20 industrial kitchen smoke capture suck The biggest difference of the Dr.Clean H20 capture suck that integrates oil and steam separation technology with an ultrasonic oil separator fan right at the suction head, effectively separating and filtering oil up to over 80%, ensuring the exhaust gas pipeline system is not sticky with oil, reducing cleaning costs and ensuring fire protection safety.
Dr.Air electrostatic precipitator and smoke removal machine: Specially designed for industrial kitchen smoke treatment that is effective in removing smoke, soot, oil in the exhaust gas. The machine can treat smoke efficiently is over 98%. The system uses an aluminum filter that can reuse after cleaning every 3 to 6 months or once a year, depending on the specific system, the system has an automatic warning notifying the user that the filter needs to be cleaned.
Dr.Ozone® Ozone deodorizer – a registered intellectual property trademark of HSVN Global Co.,ltd with ISO 9001 standard. The machine has the ability to quickly deodorize, remove odors, kitchen smoke odors and organic substances evaporate quickly causing odors. The advantages of Dr.Ozone industrial ozone machine are can continuous operation, no need to add chemicals, no need for frequent installation, low maintenance, low cost, high efficiency.
Dr.Ozone specializes in exhaust gas treatment designed with large size ozone output ϕ70 – ϕ90, the built-in industrial fan inside, helping ozone mix faster, better deodorizing effect, superior to the whole line ozone machine on the market. A subtle reform drawn from many actual kitchen smoke treatment projects at Pho Thin, Dam Sen seafood processing area, Kichi-Kichi hot pot,…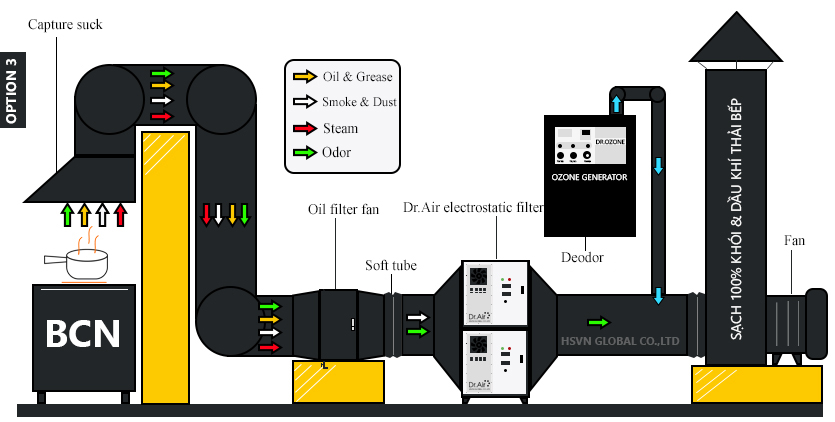 The 2D simulation model of comprehensive industrial kitchen smoke treatment system
Based on the actual needs of every project and treatment system, we will provide an appropriate solution. Contact us today for the best comprehensive industrial kitchen smoke treatment solution, optimize cost. Our technical team who are professional, experienced and knowledgeable will always ready to listen and answer all your questions. You can contact us any time via Chat Box or Hotline for the best advice and support.
Dr.Ozone Headquarter
Address: No.30, Truong An Industrial Cluster, An Khanh Commune, Hoai Duc Dist, Ha Noi, Viet Nam
Website: dr-ozone.com
Inbox us: Fanpage Dr-Ozone