Customer Information
Client name: Ms. Giang – Viet Do Construction Investment and Environment Joint Stock Company
Product: Dr.Ozone D2 industrial ozone machine
Quantity: 02 machines
Requirements: Treatments for color removal from wastewater of paper production
The pulp and paper industry has made significant progress in wastewater treatment in recent years. Contact Dr.Ozone, Viet Do Construction Investment and Environment JSC – Our trusted and long-time partner ordered two Dr.Ozone D2 industrial ozone machines to integrate into the existing wastewater treatment system of the company. Purpose of using ozone for wastewater color treatment.
Before learning about the application of ozone in the color removal of wastewater from the paper production process, let's see and analyze the characteristics of paper industry wastewater to gain a deeper understanding of the pollution level of this wastewater if is discharged into the environment without treatment.
The Wastewater Of Paper Industry – Composition, Characteristics And Treatment Technology
The wastewater is generated from many different sources in the paper production process.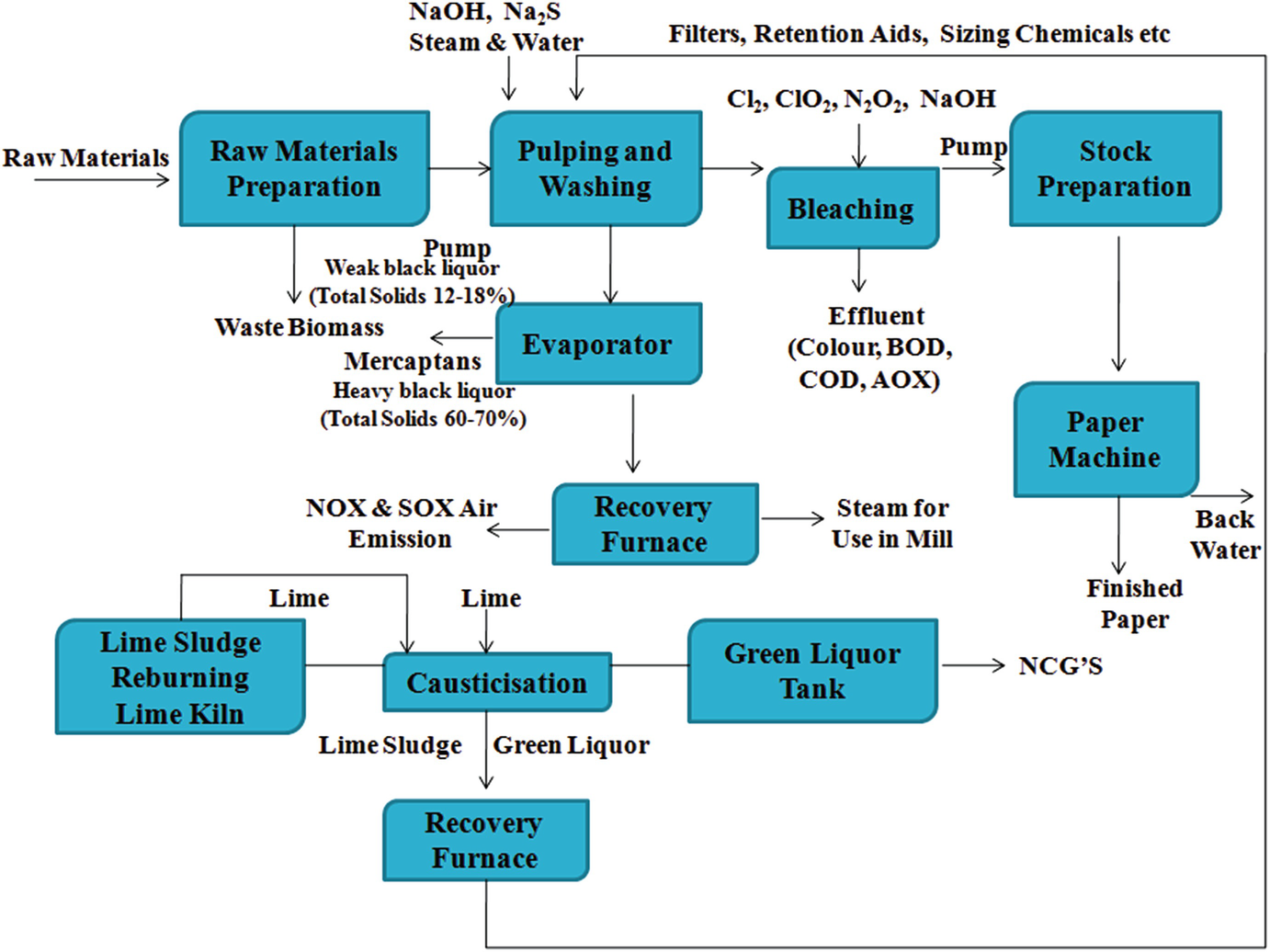 Different sources in the paper production process generate wastewater. Image source: media.springernature
General of wastewater characteristics from the paper industry
High suspended solids content
Excess paper content in wastewater for recycled paper production facilities
High coloration for paper production facilities from nature
High organic content, especially in the indicator of total quality of Nitrogen, BOD, COD, etc.
Ozone Solution For Colored Wastewater Treatment Of Paper Industry
Natural clean water is usually colorless and odorless. The color of wastewater is caused mainly by odorants, dissolved substances, colloids or rotting plants. In addition, the presence of some metal ions (Fe, Mn), algae, peat and industrial wastes is also one of the causes of watercolor.
Ozone is a strong oxidizing agent, even at low temperatures, which means it has a fast reaction time and effective color treatment. It also allows the removal of acute toxicity and chlorophenolic acid, increasing the biodegradability of wastewater streams. The color treatment of wastewater is not only good for the environment but also ensures compliance with current regulations on production wastewater before discharge. In addition, ozone also provides another benefit such as improving water quality to can be reusable in production, significantly saving overall water usage in the treatment process.
In this project, our customer used two Dr.Ozone D2 industrial ozone machines, directly under the tank to treat the color of paper production wastewater.
>>> Read more the article: Ozone Bleaching
Advantages Of Technology For Industrial Wastewater Treatment Of Dr.Ozone D2 Industrial Ozone Machine
Industry-standard ozone generator with anti-interference ability, anti-attenuation, enhanced protection 24/24h with Auto-Cooling technology, increased efficiency of converting oxygen gas into ozone gas, allowing the machine to operate continuously for 24h at room temperature of 20°C.
Friendly Environmental solution in water treatment, no need to supply chemicals, no toxic residues.
The machine is easily integrated into the existing wastewater treatment system of the unit
Easy to use and operate
Ozone output of 2g/h, ozone concentration max 2g/m3, ozone gas flow 35l/min, 100% accuracy when conducting tests. The machine runs smoothly and is durable.
Below is a video and images of the actual project of integrating Dr.Ozone machines into the paper production wastewater treatment system for Viet Do Construction Investment and Environment JSC.
Dr.Ozone D2 industrial ozone machine is often used in small and medium-sized water treatment projects, with high treatment efficiency, trusted by many businesses.
Based on the actual needs of every project and treatment system, we will provide an appropriate solution. Contact us today for the best production wastewater color treatment solution, optimize cost. Our technical team who are professional, experienced and knowledgeable will always ready to listen and answer all your questions. You can contact us any time via Chat Box or:
Dr.Ozone Headquarter
Address: No.30, Truong An Industrial Cluster, An Khanh Commune, Hoai Duc Dist, Ha Noi city, Viet Nam
Hotline 24/7 Customer Service: (+84) 0901.856.888
Website: dr-ozone.com