Customer Information
Customer Name: Singapore Rice Pot Restaurant
Address: Rainbow Building, Linh Dam, Hoang Mai district, Hanoi
Quantity: 01 machine
Requirements: Treatment of restaurant exhaust gas
Ozone Generator For Kitchen Exhaust System Of KOMBO Singapore Clay Pot
Receiving the trust of KOMBO Singapore clay pot rice restaurant in Hoang Mai – Hanoi, Dr.Ozone carried out the survey, the construction and installation of the kitchen exhaust gas treatment system, ensuring the standard quality before discharging gas into the outside environment.
It is known that the restaurant provides food and drinks on-site and also accepts online orders through applications. Singaporean rice pot is one of the most popular dishes, especially for office workers. The restaurant kitchen's peak operating time during lunchtime (10 am-13 pm) and dinner time (6 am-9 pm), the smoke and odor emissions are relatively large and need a complete, scientific solution for a thorough treatment of this outstanding pollution problem.
Combined with an electrostatic precipitator to handle smoke, collect grease and filter dust, Dr.Ozone plans to treat odors for the rice cooker restaurant with Dr.Ozone DK20 industrial ozone deodorizer.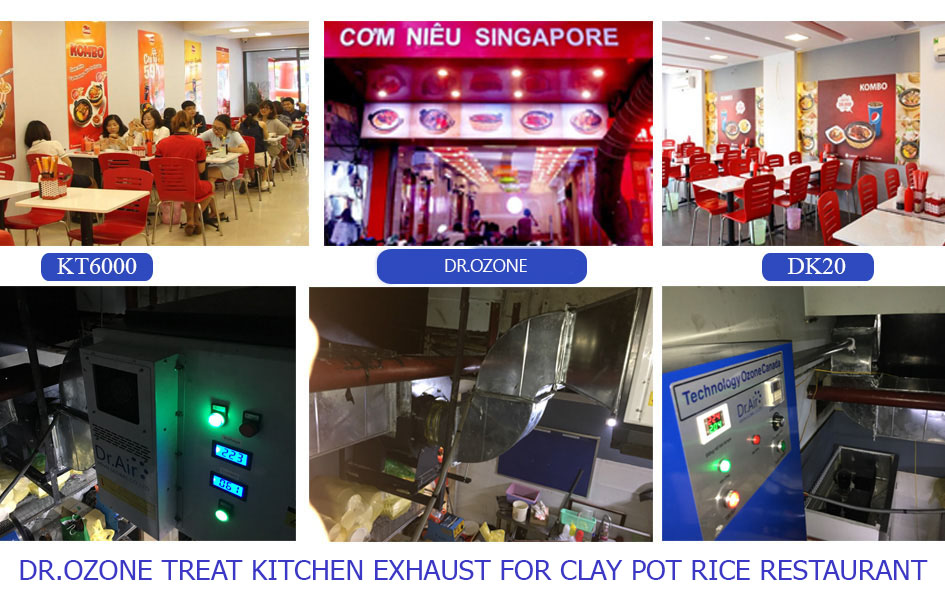 Ozone Technology – An Effective And Innovative Deodorizing Solution
The restaurant specializes in providing clay pot rice and fried dishes, making kitchen exhaust contain a large amount of grease. Kitchen smoke contains heat energy, odor molecules, soot and grease particles. Heat causes grease to be liquid or gaseous.
Cooking smoke contains a variety of compounds that produce odors. Fats and bacteria that thrive on these compounds are one of the main causes of odors in exhaust systems and greatly affect the residential area around restaurants. Odor compounds from cooking are usually volatile organic compounds (VOCs), which, in contact with ozone, oxidize to form water, carbon dioxide, and some dust. Known to be a strong oxidant, ozone quickly penetrates odor molecules and disrupts their structure. The Dr.Ozone DK20 industrial kitchen exhaust deodorizer series owns a treatment flow of 4000m3/h, output size of phi 60 and a large-capacity centrifugal fan, connecting to put ozone gas into the exhaust duct easily and flexibly.
Using the ozone generator to treat kitchen exhaust gas not only ensures fire safety but also effectively treats odors, minimizing negative impacts on the environment.
Dr.Ozone installs and operates the effective odor treatment system
After the plan was proposed and agreed by the two parties, the KOMBO Singapore rice cooker restaurant's exhaust gas treatment system went into stable operation and saw remarkable results. Odor is treated, reduced to over 98%.
Customers who are wishing to learn about the exhaust gas treatment system, please contact us via Chat Box or Hotline for detailed questions and advice. Dr.Ozone will survey and install at the project site.