There are numerous applications of ozone in the food industry that can be mentioned as decontaminating food, removing mold, killing bacteria, cleaning & removing pesticides on the food surface, preserving food in the safest and most effective way.
Ozone is also used in the food cleaning process by washing tanks with ozonized water, sterilizing cold storage, food containers, sterilizing greenhouses … for the purpose of killing bacteria, fungi, molds, microorganisms to increase the food preservation time by two times with the low cost.
Ozone generator for the food industry and cold preservation
Using ozone generators is a solution for decontaminating food, cleaning food surfaces and preserving food safely & effectively that is recognized and recommended by many prestigious organizations around the world including WHO, FDA, USDA/FSIS.
On June 26th, 2001, The United States Food and Drug Administration (FDA) officially approved the use of ozone as a disinfectant for food preservation and processing in gas and water mixing.
On December 21st, 2001, the United States Department of Agriculture & Food Safety and Inspection Service (USDA & FSIS) approved the use of ozone to preserve, detoxify, and disinfect raw meat, poultry and products.
Dr.Ozone integrated into the industrial food washing system
The biggest advantage of Ozone is easy to integrate into existing systems, or automatic vegetable washing conveyors without interfering too much in the system.
We have many integrated options, in which the above model uses the Ozone gas mixing plan under the support of an air pump, mixer Ejector, safety valve system & uses a dedicated inox ozone gas aeration disc from the bottom. Ozone mixing efficiency (hydrated ozone) is over 90%. The number of aeration discs more or less depends on the tank size and the water volume in the tank.
To achieve high efficiency when using ozone gas to wash food, usually, mix ozone and water at a ratio of 1:1, which means 1m3 of water mixed with 1g of ozone.
For the conveyor belt washing system, the fruit and vegetable transit time is small, so the ozone concentration needs to be higher than the theoretical threshold (ratio 1:2 or 1:3), the contact time is greater than 20 seconds, has water pressure.
In addition, can maintain residual energy of about 0.3ppm if contact time >10 minutes. Ozone concentration in water about 2ppm can clean 99.9% of surface pollution, this result is equivalent to a chlorine concentration of 50ppm. Ozone kills most bacteria in just 15 seconds, destroys E-Coli in 20 seconds.
In fact, the potential application of Ozone in the food cleaning process is stronger than Chlorine, and it has been shown to be more effective against a wide range of microorganisms than Chlorine.
Experiment results in the same time and dose concentration show that ozone has the ability to remove 99.99% of bacteria, 10 times higher than chlorine, 25 times higher than HOCI (Hypochlorous Acid), 2500 times more than OCl- (Hypochlorite) and 5000 times that of NH2Cl (Chloramine).
For automatic vegetable washing conveyor, ozone can be used in the washing tank (using aeration disk, mix directly into the water supply) or directly on the high-speed spray rig.
Since ozone does not leave any harmful by-products, ozone disinfection water can be reused for CIP processes (clean-in-place) that reuse the water from the intermediate process. In this respect, ozone disinfection can reduce the water consumption level of the whole CIP process.
Ozone technology is also applied in the system of washing fresh raw food such as frozen salmon, beef, pork (MEAT Deli), … or creating ozonated ice to preserve food.
Dr.Ozone machine provides pure ozone gas for food preservation
Aseptic food preservation is the second most important stage after the cleaning & washing process with Ozone technology. The industrial Dr.Ozone machine produces ozone gas on-site and without storage is one of its main benefits that help to cut cost types.
High concentration ozone is produced stably by the cooling system with low power consumption.
Dr.Ozone machine used in the air and room disinfection completely different design compared to the ozone machine used for water treatment. With a large exhaust system, the output is ϕ70 or ϕ90 compared to the commonly used ϕ9 for smaller systems. The advantages of this machine line are fast ozone discharge rate, low ozone concentration, wide processing range, can design directly the main air conditioner pipe or the system to evenly distribute throughout the storage room. Ozone concentration is maintained from 0.05 – 0.1ppm, the accompanying equipment can include 1 ozone concentration meter TONGDY-G09-03 that controls the operation and automatically turns the device on and off when reaching the set ozone threshold.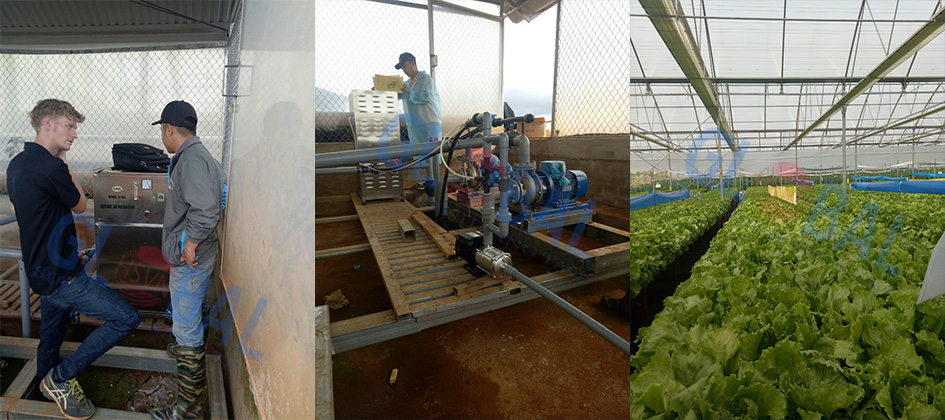 The air disinfection method with ozone is also applied in the model of growing fresh vegetables in greenhouses, helping to maintain a safe environment for fresh vegetables to grow, avoiding cross-disease transmission.
In addition, Dr.Ozone industrial ozone machine can also create ozonized water for irrigation and care trees.
Based on the actual needs of every project and treatment system, we will provide an appropriate solution. Contact us today for the food treatment solution, optimize cost. Our technical team who are professional, experienced and knowledgeable will always ready to listen and answer all your questions. You can contact us any time via Chat Box or Hotline 24/7 for the best advice and support
Dr.Ozone Headquarter
Address: No.30, Truong An Industrial Cluster, An Khanh Commune, Hoai Duc Dist, Ha Noi city, Viet Nam
Website: dr-ozone.com