Dr.Air Pro Max Antibacterial Deodorant Air Purifier is equipped with the most advanced room air treatment technology in the world, integrating a system that includes:
HEPA Filter + Activated Carbon + Catalyst to remove dust, fine dust, and PM2.5, PM10 superfine dust
Ozone, Ion, UV technology combined with photocatalyst thoroughly removes harmful gases, deodorizes (room odors, cigarette smoke, musty odors), kills viruses, bacteria & pathogens present in the air.
The Air Purifier is suitable for any space of apartment, living room, bedroom, lobby, office, meeting room, etc. This is the air purifier line that has effective applying capabilities in the largest area of ​​120m2.
The machine is made of ABS environmental protection material with a weight of 10.5kg, size 400x240x680mm, easy to move to many different locations. Dr.Air Pro Max operates quietly, the noise level of 55.5 – 60bD even when its all features are turned on.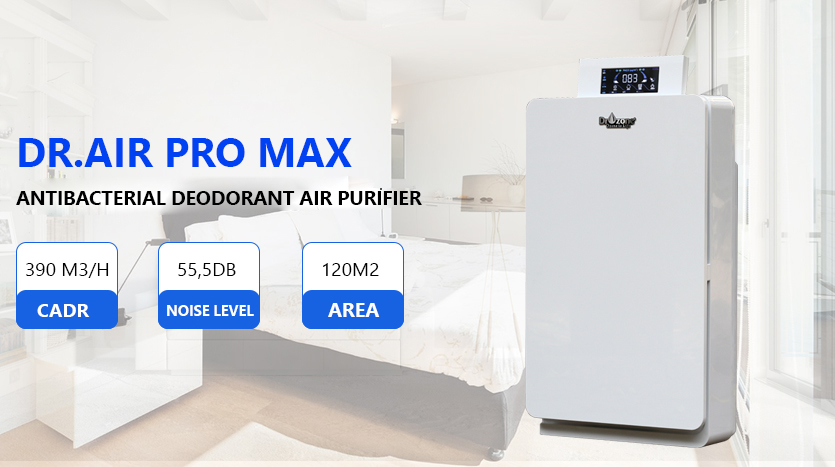 What are the outstanding features of Dr.Air Pro Max Antibacterial Air Purifier?
6-layer purification system removes 99.97% of PM2.5 fine dust, 0.03mm fine dust; decomposes formaldehyde, adsorbs odors, harmful gases in the air.
Has four air filter speeds & can set operating timings.
Has powerful air purification ability with CADR get nearly 400m3/h. CADR is "Clean Air Delivery Rate" which means the index of air quality is as higher as better. CADR ranks for pollutants such as "Tobacco Smoke (10-450 CADR), Dust (10-400 CADR), Pollen (25-450 CADR)
Has a vivid intuitive LCD touch screen, friendly interface that can be rotated 90 degrees, easy to control.
Remote control by controller.
Integrated the current most advanced technology platform including Ozone to deodorizer & kill bacteria, UVC to disinfect the air, negative ions to provide fresh air & remove dust and 6 layers carbon filter & HEPA filter system.
The PM2.5 air quality sensor can measure continuously, providing air quality alerts.
Flexible operating mode with two main modes: Manual setting & recirculating operation.
Prevent children from playing by the control lock.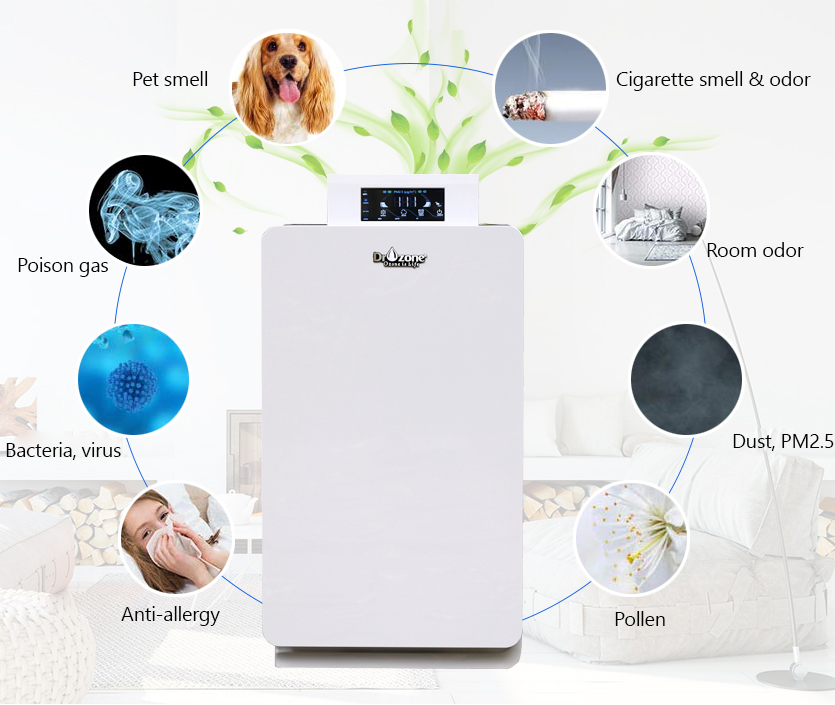 Dr.Air Pro Max Air Purifier integrated three current most innovative cleaning technology:
Ion technology has been and is being applied widely over the world, certified by the United States Food and Drug Administration (FDA or USFDA) as a very effective anti-allergic agent. By its ion capacity level of up to 20 million /cm3, the Dr.Air Pro Max air purifier

reduces pollutant particles in the air by up to 97% and reduces the number of bacteria by 95%, making the living space fresher & cleaner.
UV technology prevents the spread of harmful microorganisms in the air, preventing the arising of infectious diseases. This technology can eliminate a wide range of bacteria, viruses and germs (kills Ecol in 0.36 seconds, Influenza virus in 0.23 seconds, etc.), can control the development of mold and other allergens, remove VOCs compounds, which kills airborne pollutants by breaking DNA molecular bonds, rendering them inactive and unable to continue to reproduce.
Ozone technology – a familiar cleaning solution with high efficiency deodorizing & disinfecting ability. Air Pro Max ozone air purifier has an ozone capacity of 500mg/h and works cyclically that can eliminate many types of bacteria & viruses in a short amount of time in seconds (01 – 10 seconds) and leaving no harmful chemical residues.
TiO2 photocatalytic gas filter membrane– Technological highlight of  Dr.Air Pro Max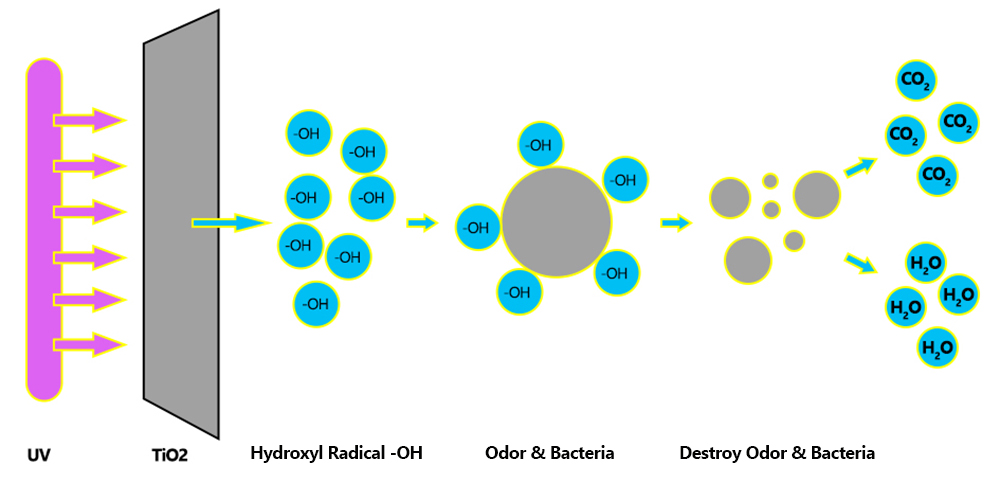 Dr.Air Pro Max antibacterial deodorant air purifier is not only a trusted product used in Vietnam but also used in clinics and offices in Europe.
Dr.Air Pro Max air purifier machine owns a high effective HEPA air filter membrane that is famous for its ability to remove over 99.98% of PM 2.5 super-small size fine dust. The membrane is combined with an activated carbon filter that completely absorbs the polluted gas.
Besides, the technological highlight of the product is a photocatalytic membrane filter, also known as TiO2 – which uses light to trigger chemical reactions.
TiO2 photocatalysts are widely used in many applications and products of the energy and environmental sectors, including self-cleaning surfaces, air and water purification systems, disinfection, hydrogen evolution, and photochemical conversion.
TiO2 is antibacterial by a self-degrading mechanism that acts on microorganisms as decomposing an organic compound. It is an effective tool in combating genetic modification of pathogenic microorganisms. In addition, the TiO2 photocatalyst is non-toxic. It is the product of decomposition are CO2 and Water.
6-layers filter membrane technology of Dr.Air Pro Max Antibacterial Deodorant Air Purifier
Dr.Air Pro Max is equipped with a 6-layer purification filter unit, with many filter floors from primary to fine filtration that combined with a negative ion technology platform to help purify the air faster, minimizing the influence of microscopic dust, the fine dust in the room air.

Primary filter: Removes dust's larger size than 20 microns such as hair, fiber, pollen, large coarse dust.
HEPA-PRE filter: Removes more than 99.97% of particles less than 0.03mm diameter (about 1/4/200 of hair diameter).
HEPA filter: Absorbs and decomposes formaldehyde, breaking down formaldehyde and other toxic gas into CO2 and H2O.
Primary Carbon Filter Cotton: Absorbs odors.
Activated carbon filter: Remove organisms and pollutants, absorb and remove odors and toxic gases, with good purification effect.
Photocatalytic filter: Decompose toxic and harmful gases in the air, effectively kill many germs and remove odors.
User manual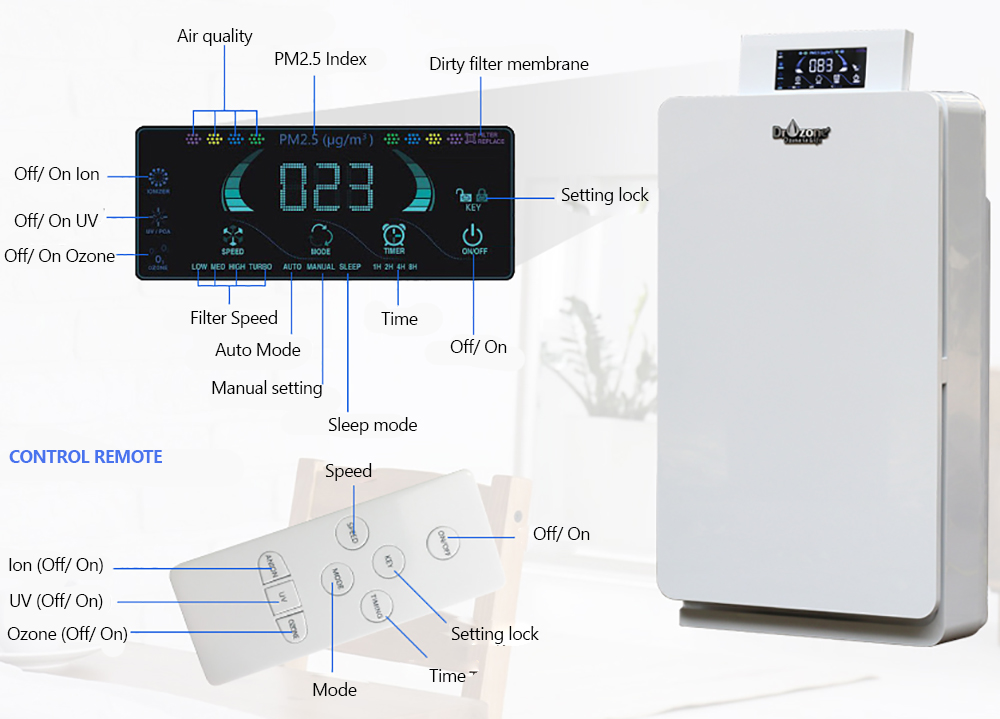 Dr.Air Pro Max is easy to control via the LCD touch screen. In addition, you can also use the remote control within 10 meters, extremely convenient.
The machine is started by just a light touch on / off on the remote control. The remote clearly shows the cleaning technologies that this machine owns, including negative ion, UV and ozone technology.
The screen also shows the mode of auto – manual – sleep, low – medium – high – extreme wind speed, operating time 1 – 2 – 4 – 8 hours, with child lock – reminder filter replacement.