Dr.Ozone D500S industrial ozone machine owns high-quality machine parts and details that ensure the criteria for efficiency as well as the longevity ozone generator. The large ozone generator with high capacity is suitable for use in factories, production workshops, processing …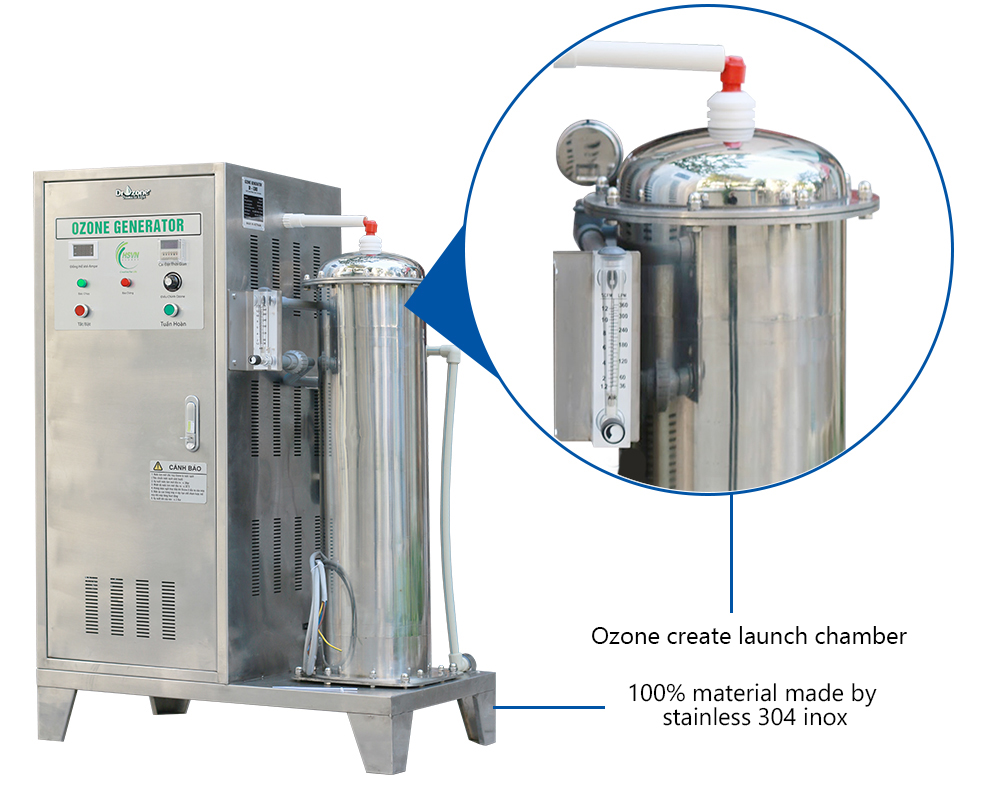 Dr.Ozone D500S Large Ozone Generator Product Features:
Oxygen filter unit: In order for the produced ozone amount to be pure, the input oxygen source also needs to be clean, free of impurities. Therefore, the D500S industrial ozone machine is equipped with an oxygen filter. Air from the natural environment will pass through the filter and only oxygen molecules be brought to the ozone generator.
Optimized motherboard system: With high-power high-frequency unit, solid monolithic components, CPU integrated with dedicated IC digital circuitry, synchronous motherboard system, industrial anti-interference ability that help Dr.Ozone D500S machine ensure stable operation, brings great working performance.
Safety device set: For high-capacity machines, when operating, temperatures can rise too high can damage internal components. Therefore, the D500s is supplemented with a set of safety devices, automatically shutting off when the temperature exceeds the threshold. H2O-Green technology combines an aluminum radiator to support cooling faster.
Ozone Application In The Dairy Industry
Ozone technology is proven to be a method that brings many uses for the dairy industry. They are not only used to remove milk residue, biofilm-forming bacteria on processing tools and dairy products but also have a positive effect in preventing mold growth in the air. It helps to increase the shelf life of finished products. In particular, Dr.Ozone industrial ozone machines are often used in the wastewater treatment & sterilization process of dairy processing plants.
On the chemistry side, ozone is a strong oxidizing agent, second only to fluorine. Therefore, ozone becomes a highly effective disinfectant that can remove more than 300 different chemical compounds, easily dealing with contaminants, harmful microorganisms in the environment.
The ozone application in the dairy industry is not only in disinfecting and cleaning the water and air environment, they also take other roles such as:
Disinfect milk tank
Treatment of cow mastitis
Disinfect the barn
Removes milk residue and biofilm-forming bacteria from the processing equipment surface
Product preservation
…